Insurgent Icons
Sale spotlights leaders in the Mexican War of Independence By Peggy Carouthers Peggy Carouthers lives in North Carolina and is the editor of custom content at Journalistic Inc.
On the morning of September 16, 1810, Miguel Hidalgo y Costilla rallied the locals of the town of Dolores, sparking the conflict that would come to be known as the Guerra de Independencia de México, or the Mexican War of Independence. This long-fought struggle culminated in 1821 with the establishment of the independent nation known today as the United States of Mexico.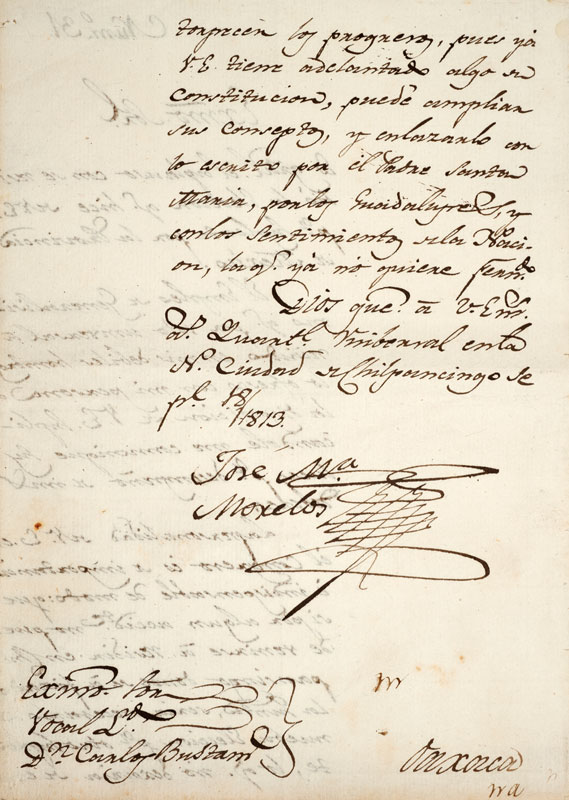 While the facts of this struggle for independence are known, it is the underlying ideology that drove Hidalgo and his compatriots and allowed the insurgent leaders of the revolution to accomplish this feat.
"No war is without its nuances," says Jesús Cruz, a specialist in fine books and documents at Morton. "The more noticeable of which are the blood and death at the physical level, but no war is waged without an ideology to drive it."
That ideology driving the revolution is harder to grasp, but the firsthand documents of the participants can paint a clearer picture of the impetus behind the war.
"Ideas are both the trigger and a fundamental piece in every case of armed conflict," Cruz says. "It is exactly here where documents provide us with insight on the opposing version of realities of a single occurrence."
Several of these documents have come to auction through the years at Morton Subastas, including documents signed by insurgen leaders, such as Miguel Hidalgo, José María Morelos, José Domínguez, Anastasio Bustamante, Nicolás Bravo, Guadalupe Victoria, and Agustín Iturbide.
The collection includes government and inquisitorial edicts against insurgence threatening revolutionary chieftains with imprisonment or excommunication or promising pardons in return for resignation. Satirical pasquinades and pamphlets written under pseudonyms to criticize civil and secular powers have also been included.
One such item is a letter dated September 18, 1813 from Morelos, "gereralísimo" of the independence movement.
In this letter, Morelos communicated to Carlos María de Bustamante that he had been assigned as "generalísimo" and asked him to accept the deputy position at the Congress of Chilpancingo so they would not need to hold another election.
Bustamante also served that year as editor of the newspaper Correo Americano del Sur.
This letter was sold at auction this year for $26,250.
"These documents transport us to the affairs of the moment and the plight of the hero, politician, journalist, and the populace," says Cruz. "Having a document of the era is not only owning an important piece of history, but of our entire national identity."
These documents not only make for interesting collectible pieces, they speak to the ideologies and beliefs of the figures of the Mexican quest for independence, influencing the modern understanding of these events.