A Life in Letters
A collection of documents illuminates the life of George Washington and founding fathers By Peggy Carouthers Peggy Carouthers lives in North Carolina and is the editor of custom content at Journalistic Inc.
The history of the Revolutionary War and the years that followed are taught in every American school, but textbooks do not often teach students about the human dramas that played out around these iconic events.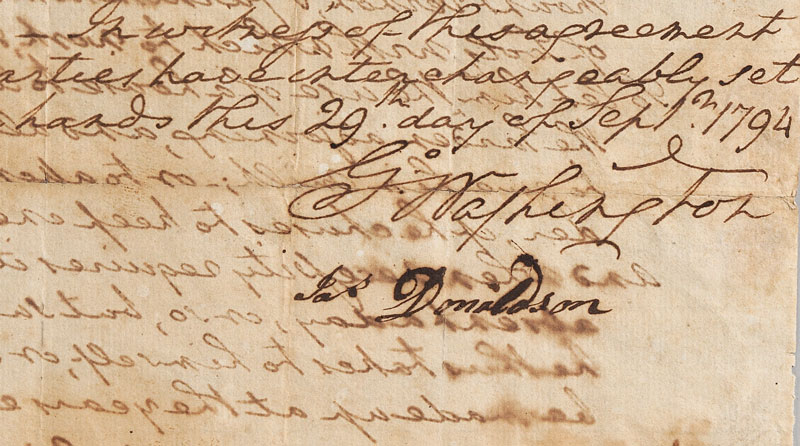 The weekend of the ABAA Book Fair in Boston this fall, Skinner Inc. will auction a unique collection documenting the life of George Washington. Amassed by the late David Spinney of Chicago, the collection includes twenty-three documents that bring out a human dimension of the life of the nation's first president.
To emphasize the arc of his story, the documents will be presented in chronological order, beginning with his early work as a surveyor and running through the Revolutionary War and his presidency.
"It's unusual to have this many George Washington letters all together," says Devon Eastland, director of fine books and manuscripts for Skinner. "There's a finite group of these documents, and every day one more goes into an institution forever, and they aren't going to come out," she says.
The collection contains letters and documents from key historical moments, such as the Revolutionary War and the transition of presidential power between Washington and John Adams. Yet, in many ways, it is the documents describing life outside of these events that are most fascinating.

Included in the sale is an invitation to the swearing in of John Adams and Thomas Jefferson as president and vice president, addressed to New York Senator John Laurence. This is paired with a copy of the Connecticut Journal newspaper describing what happened at the inauguration, as well as the subsequent banquet held in honor of Washington. This lot is estimated at $30,000 to $40,000.
An especially rare Martha Washington letter estimated at $15,000 to $20,000 is also featured, highlighting familial drama. The letter asks Fanny Bassett, Martha Washington's niece, if she will host Ralph Izard, president pro tempor of the senate, and his wife while they visit Mount Vernon. However, as other documents reveal, the guests were left alone with the butler for a night in her absence, and Martha Washington was unhappy with Bassett.
Also for sale is a contract between Washington and a carpenter for work at Washington's home, valued at $15,000 to $20,000. This contract includes a request for the man to train the slave carpenters at Mount Vernon, which Eastland notes is particularly meaningful today as historians research details around slavery to better understand slave lives.
"[These documents] make history very human and very real," Eastland says. "Once you start digging into them, you start uncovering all these layers, and it brings it to life."
The sale will also include color plate books from the nineteenth century about travel and Native American Indians, including Indian Tribes of North America by Thomas McKenney, estimated at $35,000 to $55,000; Catlin's North American Indian Portfolio, a folio of illustrated plates by George Catlin, estimated at $40,000 to $60,000; and The Aboriginal Port Folio by James Otto Lewis, estimated at $40,000 to $45,000.
Together, the items in this sale offer collectors and historians an inside look into the lives of prominent figures in America's early history, painting a clearer picture of the times and giving modern Americans unique insight into the country's origin that one simply cannot find in history books.