New Auction House Sets Records
Forum Auctions may be young, but its expert team achieves strong results. By Peggy Carouthers Peggy Carouthers lives in North Carolina and is the editor of custom content at Journalistic Inc.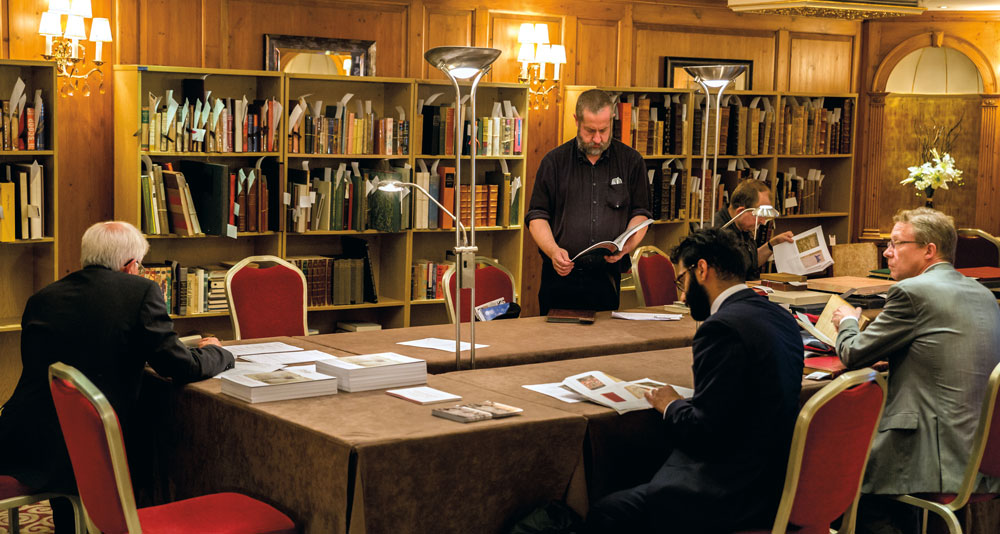 Stephan Ludwig had an idea. The former CEO of Dreweatts and Bloomsbury Auctions, he envisioned an international auction house that provided a high level of customer experience that could carry that experience into online bidding and the digital space. Now, in less than two years, Forum Auctions has emerged, growing and even setting sales records.
Forum Auctions has three departments: Books, Old Master and Decorative Prints, and Modern and Contemporary Prints and Editions. The house also handles all manner of manuscript material, printed ephemera, maps, and photographs. Said Rupert Powell, deputy chairman and head of books at Forum, "Our company was born out of a desire to enhance much of what many of us had spent years establishing, but developing that further in terms of online bidding and customer experience."
In founding this new auction house, Ludwig recruited many former colleagues with whom he had worked—specialists and support staff members who would create a cohesive team with a strong background in the auction world.
"I think I speak for all my colleagues when I say that we are rejuvenated and inspired by what Forum Auctions initially promised and, a year on, has already spectacularly delivered," Powell said. "We are genuinely thrilled to be working together, and there is a fabulous team spirit. That positivity translates into exciting and interesting consignments, successful auctions, and satisfaction for both buyer and seller."
Powell joined the Forum Auctions team in July 2016. Only two weeks later, the house's first auction reached nearly a £1 million hammer total with a two-day sale featuring antiquarian books, modern literature, and master prints. Forum Auctions has continued to grow from there.
Also in 2016, Forum Auctions became the world's top auctioneer for prints by urban artist Banksy when all forty-two of his works sold, including sixteen with world records. Powell noted this was a "white-glove affair," based on the nineteenth-century century tradition that when every lot sells, the auctioneer is presented with a pair of white gloves. In Modern Print auctions since, another sixty Banksy lots have sold, with a hammer total well over £1.25 million.
"Across the board we have achieved extraordinary results in a short period and established a position as the leading specialist auction house," Powell said.
He attributes the house's success to its focus on specific markets, strong specialist staff, and forward-thinking vision. Other keys to success at Forum are is its blend of traditional and online selling with pre-sale viewing combined with Forum's seasoned professionals that provide a unique market position. Because team members are also stakeholders in the business, they have a vested interest in its performance.
"We combine knowledge of subject with a passion for what we do," Powell said. "And, most importantly, we are friendly and always happy to talk with customers about any aspect of our world, whether it's buying or selling; discussing current prices or trends; undertaking valuations for sale, probate, or insurance; or even rare book or print world gossip. We believe that Forum Auctions is the optimum 'one-stop shop' for the buying and selling of rare books and works on paper."