View From the Top
Aerial map of pre-fire Chicago one of many rare finds at Leslie Hindman Auctioneers' September sale. By Peggy Carouthers Peggy Carouthers lives in North Carolina and is the editor of custom content at Journalistic Inc.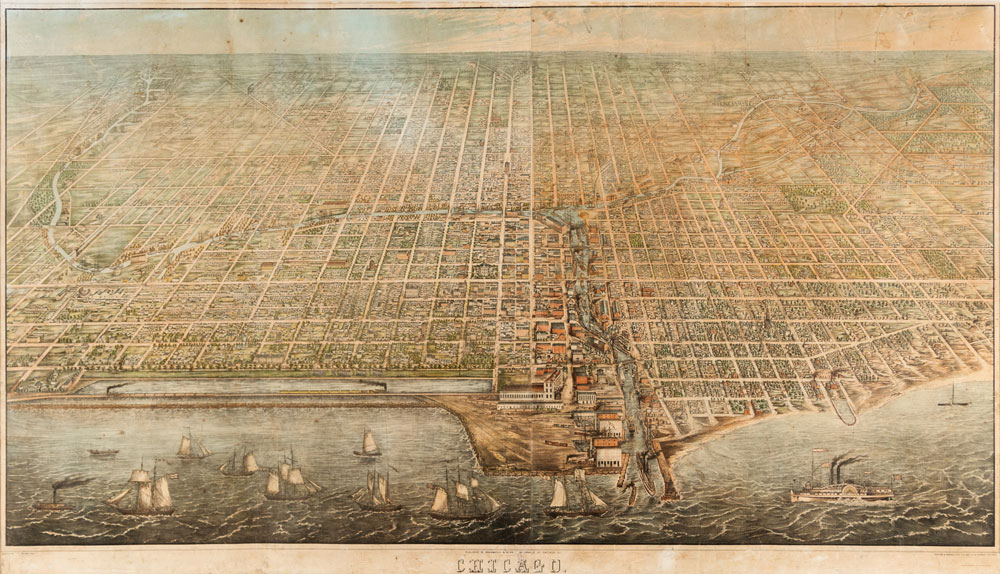 On October 8, 1871, flames grew around Patrick and Catherine O'Leary's barn and quickly spread, engulfing much of Chicago. Later named The Great Chicago Fire, this event killed three hundred people and destroyed thousands of buildings across 3.3 square miles, forever changing the landscape of the city.
In order to understand the early history of the metropolis, historians and collectors must turn to pre-fire sources, like J. T. Palmatary's "Bird's-Eye View of Chicago," printed by Braunhold & Sonne in 1857. Palmatary, a mapmaker best known for his aerial views of cities, reproduced the plan of the city with painstaking detail.
His representation of Chicago features views of the cityscape at the time down to individual buildings and streets, depicting sites of great historical importance, like the Illinois Central Railroad shown in the lower left corner of the map. Completed in 1856, one year before the map was published, the railroad ran over the lake rather than along the lakeshore, which had been deeded as a public park space in 1836. It was the longest in the world at the time it was built, stretching 705 miles from Chicago to Cairo, Illinois.
The map also shows an area of the city called "The Sands" on the lower right side, which Gretchen Hause, director of Fine Books and Manuscripts at Leslie Hindman, noted was an "area of ill repute." Adding further historical significance, this area was where many people fleeing the disaster sought refuge in the aftermath of the fire.
In addition to its value as a contemporary depiction of pre-fire Chicago, this map is also exceedingly rare.
"There are only four known copies of this particular view of Chicago, and three of those copies are in institutional collections," Hause said, adding that copies are housed at the Chicago History Museum, the Newberry Library, and the Library of Congress.
But on September 13, during Leslie Hindman Auctioneers' Fine Books and Manuscripts sale, a privately held copy of this map is up for auction. With an estimated value between $20,000 and $30,000, Hause said this is a "very nice" copy.
The map's large size could have played a factor in its rarity, as large paper items are hard to preserve. Measuring at 1,175 mm x 2,060 mm, the map was printed on four separate sheets.
As the only known copy of this pre-fire view of Chicago in private hands the auction presents a rare opportunity for collectors. This is one of many fine maps being offered for sale during the Fine Books and Manuscripts auction, which will also include many items of significance in the fields of cartography, exploration, and Americana.