Mapping a Nation
Leslie Hindman's upcoming sale traces the development of cartography in the United States By Peggy Carouthers Peggy Carouthers lives in California and is the custom content manager at Journalistic Inc.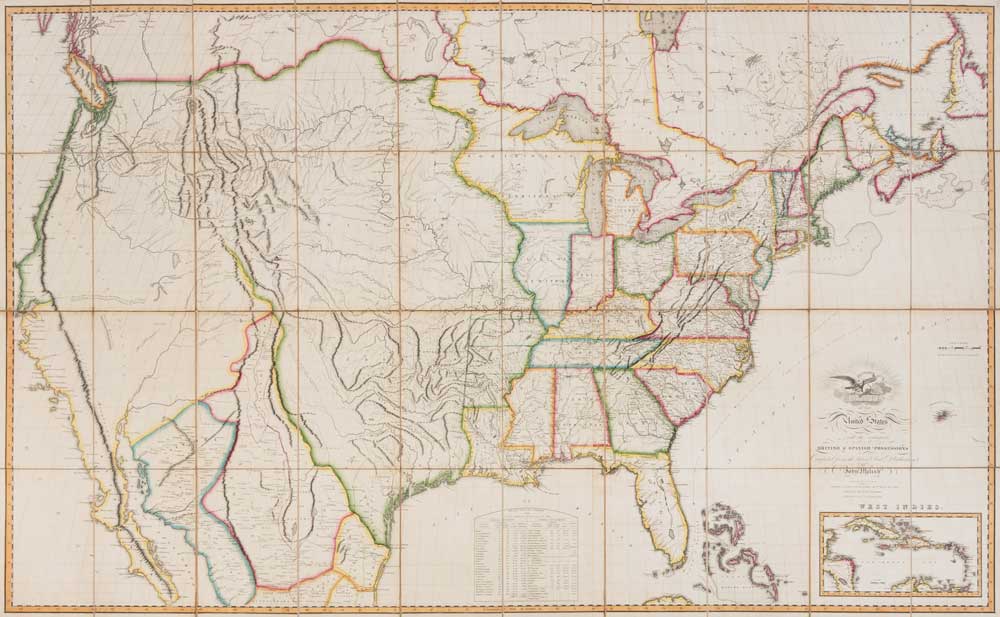 On November 12, Leslie Hindman Auctioneers will host the sale of the Fine Cartographic and Printed Americana Collection of Evelyn and Eric Newman in Chicago. Though other items from the Newman collection will be sold in a sale in St. Louis in October, Leslie Hindman is holding this stand-alone sale of the books from the collection, comprising around 120 lots, to underscore the importance of these items.
"This is a great collection of important cartography and Americana, particularly Western Americana, spanning the time period from the seventeenth century to the American Revolution and through Westward expansion," said Gretchen Hause, director of the fine books and manuscripts department at Leslie Hindman. "The collection includes many wonderful maps and atlases tracing this period of development in our nation's history. It also includes some of the first atlases printed of America."
For example, the sale will feature a first edition and exceedingly rare first state of Justus Danckerts' Novi Belgii Novaeque Angliae nec non Partis Virginia Tabula, printed in Amsterdam around 1656. "This has been identified as a first state of this map because the names of Pennsylvania and Philadelphia have not yet been added," Hause said. "So far, our research has shown that fewer than a handful of copies of this map are known, most in institutional collections. It has never been seen on the market at auction." The conservative provisional estimate for the map is $6,000-8,000.
Also included in the collection is an engraved map in twenty sheets by Henry Popple called A Map of the British Empire in America with the French and Spanish Settlements Adjacent thereto (est. $40,000-60,000). "Published in London in 1733, this is the first large-scale map of the United States of America—then called the British Empire—ever produced," Hause said.
Some of the maps and atlases included in the sale were previously part of the collections of Thomas W. Streeter and Gerald Graff, which Hause called "some of the most important Americana collections ever assembled."
One such example is Streeter's copy of John Melish's Map of the United States … Entered … the 1st day of January, 1818 (est. $25,000-35,000). Published in Philadelphia in 1818, this engraved map was hand-colored in outline, dissected in forty sections, and mounted on linen, edged in silk folds with marbled endsheets.
"The Newman collection includes not one but three Melish maps in three different issues (1816, 1818, and 1820) showing the development of the country at that time and the development in the way that information was presented in map form," Hause said.
And these are just a few of the highlights of such an extensive collection of cartography. "It's really a wonderful collection full of fine examples of books, maps, and atlases in their original condition," Hause said. "The bindings are all contemporary or near contemporary, which is really appealing to buyers in the current market. The collection includes a number of really nice examples of the highlights of American cartography, and it traces the history of the American landscape from the birth of our nation through the age of Western expansion."