Cultural Revolutions
A Firsthand Look At China's Reviving Book Scene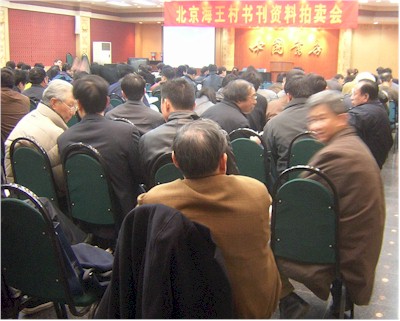 On a cold Tuesday in Beijing, steam rose ghost-like from sewer grates in the wide, car-choked streets. The towering buildings, monuments to China's new wealth, stood a lonely watch as thickly bundled people hustled from heated lobby to taxi and back again. Street vendors' breath hung in a crystalline mist over full carts of fresh candied mandarin slices, twisted fried bread and roasted sweet potatoes.
South of the stark downtown and governmental edifices of Tiananmen Square and the smiling image of Chairman Mao hanging above the red gates of the Forbidden City, the narrow streets of the curio district were bustling.
"Antiques, antiques?" a man inquired in English, almost whispering, as we walked past, his gloved hands in the pockets of a worn jacket. The shops lining the street were filled with shelves offering rarities of every description, from Japanese bayonets to 1000-year-old porcelain, most of it shameless fakery. But up a concrete ramp and then a flight of rusting metal stairs to an office above an unassuming bookshop was another kind of antique trade. Nothing but the real McCoy need apply.
It was November 25, the date of the annual fall auction at the oldest and biggest antiquarian book auction house in mainland China, the Cathay Bookshop. After decades of dormancy during the devastating Cultural Revolution and its aftermath, book collecting in China is coming into its own. When the auctions first began in 1993, it was estimated that in the whole of China only a 300,000-yuan ($36,000) market existed for rare books. According to auctioneer Pong Zheng, by last year that figure had climbed to 7 million yuan ($846,000) and, despite a brief slip due to Severe Acute Respiratory Syndrome, the market shows no signs of flagging.
Pong's auction house has been joined by more than half a dozen others in Beijing and Shanghai alone as well as dozens of smaller bookshops. Even small weekly auctions have begun to compete with the major spring and autumn offerings from the bigger houses. With the massive increase in buyers over the last decade, Pong, interviewed in his small, sunny offices, said that the main problem has become finding quality items to put under the hammer.
A friendly, middle-aged man with thinning black hair, perpetually dressed in a blue, tailored, three-piece suit, Pong has been in the book trade since the government began permitting sales in the mid-70s. His story is a mirror of the trade itself. Like many other Chinese intellectuals caught in the Cultural Revolution, he spent seven years as a agricultural laborer in the northeast of the country until he was allowed to make his way back to his native Beijing in 1976.
Within a year, he officially opened for business, one of the first antiquarian booksellers in China to do so. After Mao's Red Guards spent a decade destroying every element of China's cultural heritage they could find, selling books wasn't the safest thing to do.
"At that time, it was hard," Pong said. Hard to find buyers and, he explained, even harder to find anything to sell. Most of the major surviving collections were in hiding. "During the 60s, 70s and 80s, a lot of interest in old things had fallen off, and only in the 90s did that redevelop," Pong said.
So why did he persist? "It's very simple," he said smiling. "I always liked books, especially Chinese history." From Tsai Lun, who invented paper in the second century A.D., to the craftsman Pi Sheng, who invented moveable type around 1140, the Chinese have had a love affair with the written word. Manuscripts from a millennium ago even mention nobles acquiring then-ancient texts for their collection. When viewed from that perspective, the decline of collecting in the late 20th century is just a blip on an uninterrupted continuum. Pong said he hoped that as China finds its feet and gains a more prominent place in the world that even more collectors would become interested in the printed works of this extraordinary culture.
As the government loosened its grip on the culture and the economy in the 1990s, Pong said a class of people developed with not only the cultural background to appreciate historical works, but the affluence to put their money where their interests lie. Three years after operating the auction house with several other booksellers, Pong bought his partners out and has been fully independent, if you don't count his association with the Chinese government, ever since. And his perseverance has paid off.
Inside the auction hall, founded in 1993, a crowd of around 150 middle-aged Chinese men chatted while looking over the catalog and discussing their prospects. Four smartly dressed women sat at a table near the front poised over phone lines to anonymous bidders. On the other side of the room, the one foreign bidder present (Pong said a British group dedicated to collecting illustrated books was represented over the phones), a Swede named Nils Lindstedt, shifted a little nervously in his blue conference chair.
He was waiting for lots 49 and 50, a set of crib sheets for the test that granted entrance to the civil service in Imperial China, the meritocracy of its day. The pressure to pass the exams naturally resulted in all sorts of cheating. The two sheets, one of cloth and one of hemp paper, are covered in tiny Chinese characters. They would have been rolled and slipped into the robes of an aspiring Mandarin-to-be, then surreptitiously referred to during the test to add that little extra edge. The Imperial exams, whose modern counterparts are the endless entrance exams required of Chinese students today, are an increasingly popular collectible item. Test essays, prep books, essay questions and letters of congratulation to successful candidates are all sought-after items.
On the dot of two in the afternoon, Pong walked to the podium, dropped the gavel, and bidding began. A draft of a pre-communist political party's mission statement; collected calligraphy from early 20th-century politicians; a Manchurian soldier's letters home on blood-red stationary went—thump, thump, thump—under Pong's hammer, marking the sale of item after item.
The big money was coming from the phone buyers at the front of the room.
In no time, the crib sheets popped up on the blue PowerPoint presentation displaying the current item. Bidding began at 3000 yuan. Lindstedt won quickly with a final hammer price of 4000 yuan ($480). For him, today was just another episode in a life-long love affair with books. He became interested in collecting while working as an officer on a research vessel in the North Sea. During six months of shore leave, he started hanging around London antiquarian bookshops, and by the time he set sail again, he had caught the bug. Later, he owned his own shop in Switzerland before moving with his family to China 10 years ago to live in Beijing.
"I promised myself I wouldn't buy anymore when I moved here," Lindstedt said, standing next to the water cooler just outside the hall as we talked between lots. "But it's really very affordable being a collector here compared to, for instance, in the States." He's a big man with silvering black hair and blue eyes dressed in a thick black wool coat, collar up against the cold.
Much had changed since his arrival in China. It used to be profitable to scout around in the countryside and the small markets in Beijing, but the stall owners became more knowledgeable, and most worthwhile items now make their way to the auction houses. Lindstedt motioned to the clusters of book hounds milling around us, talking and smoking. In their thick jackets, they were hard to distinguish from the men in the antique stands on the streets below. "It's getting tougher and tougher [to make your own finds]," he said. "How are you going to beat these guys," he gestured at the men around us, "who are out there at 5 o'clock in the morning?"
Another change that has affected the rare book trade in China is the increased enforcement of rules limiting the export of antiquities. Since 1949, when the communists took power, it has been illegal to take many antiques out of the country. Under current rules, all items over 40-years-old must be approved for export, and antiques dating before 1790 legally cannot leave China. Lindstedt said that until several years ago the enforcement was "quite random," but recently it had gotten more intense. "Of course," he said. "If you have enough money or know the right people there will be no problem with anything." But, he said, even major libraries overseas were having trouble getting their purchases out.
Any dampening effect on the interest of foreigners, many of whom collect relatively modern pieces related to China's interactions with its homelands, are more than compensated by the surging interest of people on the mainland. Lindstedt said that previously big ticket items had been bought by foreigners almost exclusively, but that now the big money was increasingly coming from mainland Chinese.
One of the Chinese buyers Lindstedt mentioned was a young businessman from Hangzhou (who asked to remain anonymous) sitting in the back of the room with his older mentor and personal assistant. Coincidentally, he was interested in some of the same things as Lindstedt. When a 250-year-old map of the Hangzhou region came up, both of them grabbed their bidding cards.
Lindstedt wanted the map as a visually compelling art object, while his Chinese rival was motivated by one of the primary reasons for collecting in China: regionalism. In particular, many people are interested in old maps of their area, showing ancient towns, roads and the courses of rivers centuries ago. His competitor's collection consists of works produced in and about the region around his home in Hangzhou. He had traveled 1300 miles to Beijing especially for the auction.
Pong said that this emphasis on local pride in collecting has left poorer areas in Western China almost entirely off the antiquarian map. Slowly, as these regions become more affluent, collectors are inevitably created. Most of the buyers are businessmen and entrepreneurs wanting a piece of their cultural heritage, followed closely by academics and universities. Pong added that as China becomes wealthier and more open to the outside world, more and more people of Chinese descent are returning and buying books as a way to reconnect with their roots.
He remembered one man from Taiwan walking into the bookshop and getting very excited. "He said the people who lived on the mainland were so lucky because they could see so many old books," Pong related.
As the auction drew to a close, one by one the collectors drifted out the back. It had been a rather intimate affair. Many of the buyers were obviously acquainted with each other, giving the whole thing a sort of family reunion mood.
By contrast, the China Guardian auction the next evening was something akin to a black tie affair. Lindstedt told us that if we wanted to see real money thrown around, we should go to the auction, to be held at the five-star Kunlun Hotel. We decided to pop in for the rare book section around 8 that night, before catching our overnight train out of town. The auction was held in a wood-paneled ballroom, lit by a truly gargantuan crystal chandelier. During a brief pause in the action, the string quartet playing in the lobby was just audible. The China Guardian, now four-years-old, is the People's Republic's answer to Christie's or Sotheby's. The Chinese attempt, in Lindstedt's words, "at a world-class auction house."
Rare books were a small part of the auction and hardly the best attended. When we arrived, porcelain pieces were going up on the block for millions of dollars. But the crowds faded as the books came up, leaving about 100 serious-looking, middle-aged and older men who watched as the current lot was displayed on a massive screen, showing prices in U.S. dollars, Japanese yen, the euro and the yuan.
One book, a nearly 2000-year-old, hand-written manuscript went for over a million yuan ($120,000). With the exception of OP's correspondents, not another foreigner was in sight.