Kat Ran Press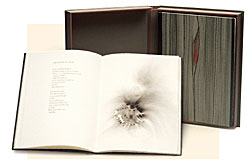 Michael Russem hopes that his next project, a signed, limited edition of a short story, "Sleep," by Japanese novelist Haruki Murakami, will be exceptional. "If you do something great before you are thirty," he said, "it's special. Lots of people do great things in their thirties." Then again, he reflected, "A lot of people never do anything great at all." At twenty-nine years old, Russem doesn't have much time left to meet his exacting standards, and by most measures, he has already accomplished a great deal as a fine press printer.
His first book, Match in a Bottle, a collection of poems by Tracey Knapp, caused a stir in the fine press book world. The book's startling originality came from the combination of verses about fire and compelling original "drawings" by Kurt Gohde that were, according to the prospectus, "carried out with a variety of combustible and pyrotechnical media, including matches, cigarette lighters, gun powder, and kerosene lamps." The edition of fifty copies quickly sold out. Russem was just twenty-two.
He has since completed six other books and many ephemeral pieces. The books are labors of love, and each of them shares the same surprising contradiction: the juxtaposition of classical typography with modern art. From a business standpoint, making his own books hasn't worked out as well. "I earn a living printing for other publishers," he said, "and I lose all my money doing my own books." Even Match in a Bottle wasn't a financial success. He priced it too low and had just covered his costs when all the copies were sold.
Russem considers himself among the third generation of printers to settle in the Pioneer Valley of Massachusetts. Leonard Baskin, the artist and bookmaker behind the Gehenna Press, set up shop there in the early 1950s and attracted a steady stream of admirers. "They came to see Baskin," Russem said, "but they met Harold McGrath, his pressman, and ended up learning printing." Baskin and McGrath died within a few months of each other in 2000. As a team, Baskin's artistic vision and McGrath's technical skills earned them legendary status as a model of a successful private press. Fifty years later, the region is still dense with printers, binders, papermakers, and other book artists who were influenced by their work.
Ephemera Club: A History of Printing in Andover, Massachusetts and Portraits of Queen Wilhelmina of the Netherlands and Great Britain's King George VI
Russem got his start in this environment. As an art student at Syracuse University, he found that he was drawn more to the technical aspects of printmaking than to the art itself. "The idea was for me to be a famous artist," he said, "but I realized that I was a mediocre artist. There are a number of mediocre artists already and I didn't want to be one of them." After graduation, he apprenticed for Michael and Winifred Bixler's type foundry, one of a handful of shops in the country still creating type for letterpress printers. It took three years for him to decide to set up on his own. "I figured if I'm going to make ten dollars per hour, I might as well make it myself."
He had announced the formation of Kat Ran Press while still in college. "I thought people would take me more seriously if they thought I was married," he said, "so the announcements went out under the names of Michael and Katherine Russem. Nobody knew that Katherine was a Labrador-husky mix until she swallowed a corn cob and I had to raise money for her veterinary bills." He printed a limited edition of Katherine's portraits as a fundraiser, explaining that, "Unfortunately, like so many Americans, Katherine is without any form of health insurance, and her mounting medical expenses far exceeded her annual income."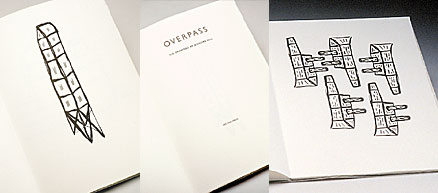 Overpass
Over the years, Russem has found steady work printing and designing books for others, including the Grolier Club, Oak Knoll Press, and a high-end publisher of photography books and prints called 21st. "While half of the work done at Kat Ran Press is for our own books," he joked, "a much larger half is done for other publishers, designers, galleries, and institutions."
His own work includes a folio-sized edition of autobiographical poems by Julia Alvarez illustrated with austere lithographs on the book's theme, trees. His new project with Haruki Murakami continues the blend of art and type, juxtaposing color etchings by artist John Gibson with a tale about insomnia. Russem realizes that many collectors cannot afford fine press books so he established the Kat Ran ephemera club last year. Members, who pay $60 per year, receive three extremely limited editions of whatever happens to hold Russem's interest at the moment. ("A 'year,'" Russem warns, "is defined as any period of time in which I get around to printing three pieces.") Recent examples include Portraits of Queen Wilhelmina of the Netherlands and Great Britain's King George VI, which contained two mounted postage stamps depicting the European monarchs. Russem chose the stamps because the lettering and calligraphy were created by type designers Jan van Krimpen and Eric Gill. He also reprinted Scott Paradise's A History of Printing in Andover, Massachusetts, inserting a bound-in leaf from an early Andover book. He annotated the text with footnotes that reluctantly deflate many of the claims the author made about the importance of the town to printing history.
As he approaches the wise old age of thirty, Russem has grown philosophical about his work. "One thing about printing that I've been struggling with for the last year," he said, "is the fact that no one reads the books. That's the big secret no one talks about. In 2001, I did a book called Overpass, which was a number book—you know, like an alphabet book but using illustrations to depict increasing numbers of things. If there aren't words, no one will buy it. It becomes an art book, not a press book. People hated Overpass. But kids love it. It's something they can imagine themselves writing—a book of drawings. If you are over forty, I can guarantee you'll hate it."