A Torrent of Hemingway, Politics, Crimes, and Punishment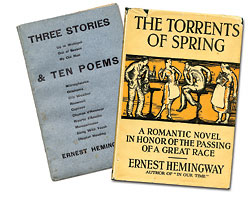 Very few authors stir the imagination as profoundly as Ernest Hemingway. As both a writer and a collectible literary icon, Hemingway is, of course, one of the most enduring authors of the twentieth century. We were particularly pleased, therefore, to receive List 50 from Between the Covers Rare Books (www.betweenthecovers.com) in Merchantville, New Jersey.
List 50 describes "a recently acquired collection, with a few additions from stock." The collection starts with a first edition of Three Stories & Ten Poems (item ¦), Hemingway's first published book. The price is $65,000, which represents a certain amount of irony in that Hemingway himself earned almost no money for writing the book. It did, however, help reinforce his relationship with Ezra Pound and Gertrude Stein, as well as bring him into contact with the critic Edmund Wilson.
The catalog also offers five volumes (items 2–6) of In Our Time, Hemingway's second book. Prices range from $500 to $60,000, with the highest priced of the five being copy 42 of 170 numbered copies. Between the Covers also has a 1926 Charles Scribner's Sons first edition of Torrents of Spring, selling for $8000 (item 7). An interesting passage from the catalog entry: "Written by Hemingway as a pastiche of the work of Sherwood Anderson. Horace Liveright, who published both authors, declined to publish this book, which he justly supposed would be an insult to Anderson, his best-selling author. This circumstance gave Hemingway the convenient excuse he needed to break his contract with Liveright so that he could sign with Scribner's and avail himself of the services of their editor Maxwell Perkins."
Also of interest is their copy of Fiesta (item 12), the U.K. version of The Sun Also Rises. This copy is inscribed by the author: "To Duddy Henry from, and censored by, her friend Ernest Hemingway 1930." Hemingway was taking a jab at his English publisher's unwelcome attempts at censoring his prose for the English audience. With its unusual inscription, but without a dust jacket, the book is offered at $9500.
Hemingway's name turns up in another catalog, this time as an advocate for a fellow author. List 159 from Quill & Brush (www.qbbooks.com) in Dickerson, Maryland, has a copy of aviation pioneer Beryl Markham's West with the Night (item 7). Hemingway wrote to Max Perkins imploring the editor to read Markham's book. "She has written so well," his letter said, "and marvelously well, that I was completely ashamed of myself as a writer." The book is a newer, 1987 North Point Press edition, the first illustrated with photographs, offered at $75.
Quill & Brush also has a nice selection of Agatha Christie's mysteries, including three first U.S. editions: The Mystery of the Blue Train (item 60, $1750), an unusual example of The Seven Dials Mystery with a wrap-around band (item 61, $1750), and The ABC Murders (item 62, $750).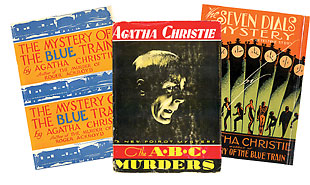 And speaking of murder, Almagre Books in Bloomington, Indiana, is offering The People vs. Chew Wing Gow, an official 1896 transcript of a Chinese murder trial in Los Angeles (item 70, $800). The transcript is extremely detailed, according to Almagre Books's catalog. It contains much valuable information on Chinese life in Los Angeles and paints a vivid picture of the ongoing Tong wars that plagued the city at the time.
Joe Rubinfine's List 152 (www.joerubinfine.com) yielded an interesting—and quite appropriate, given the recent election cacophony— letter (item ¦, $4000) signed by Union General W. T. Sherman. The letter was written to H. W. Slocum, commander of Sherman's left wing in the famed March to the Sea. Slocum was involved in New York politics, and the letter is filled with Sherman's decidedly negative opinion of politics and politicians. A sample from the letter reads, "I have seen fear, cowardice, treachery, villainy in all its shapes contort & twist men's judgment & actions, but none…like politics." "It is impossible," he adds, "for language to convey my distaste of them."
In 1884 there was talk of Sherman running for the presidency. His response: "I will not accept if nominated and will not serve if elected." Sherman had never met his grandmother, but wrote that if he ran for office, "the newspapers would say I killed her and prove it."
We also enjoyed Catalog 29 from Yesterday's Gallery & Babylon Revisited (www.yesterdaysgallery.com), purveyors of Jazz Age and Depression era literature. Among the ninety featured items, we discovered a first edition of Zane Grey's Wanderer of the Wasteland (item 44, $250) and a signed, but jacketless, 1949 first edition of Graham Greene's Nineteen Stories (item 43, $700). Another find was an 1879 first edition of Robert Louis Stevenson's Travels with a Donkey in the Cevennes (item 79, $400). Next to that, we found an inscribed 1938 first edition of Rex Stout's Too Many Cooks (item 80, $1475, no dust jacket).
Perhaps the best bargain came from Alexander Rare Books in Barre, Vermont. Their item ¦, selling for $25, is a 1981 first edition of Jack Henry Abbott's controversial In the Belly of the Beast. With an introduction by Norman Mailer, who helped Abbott gain release from prison, this book is the convict's memoir of his time spent behind bars (starting at age nine). Mailer and Abbott began a correspondence while Mailer was writing The Executioner's Song. The famous author succeeded in getting some of Abbott's letters published in The New York Review of Books, which led to the publication of Abbott's first book.
Shortly after his release, Abbott killed a restaurant worker and was returned to prison where he later committed suicide. Too bad the book's not signed.—John Clausen