Live At Last
The Marriage of Traditional and Internet Auctions Is Working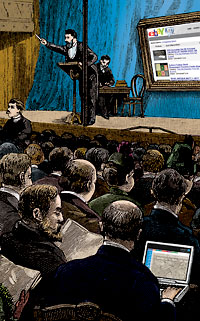 At one time, eBay harbored ambitions for a physical presence to match its digital empire. With its stock riding high in 1999, it paid $260 million for the venerable Butterfields and Butterfields, a San Francisco auction house founded in the shadow of the Gold Rush. But the combination of new- and old-style auctions didn't take, and three years later, eBay sold Butterfields to an even older auction house, Bonhams, founded in 1793. Ebay next tried a partnership with Sotheby's and a select group of high-end dealers to promote live auctions online. The partners called it quits after a year, with Sotheby's citing continued losses in the millions of dollars as the reason.
That seemed to signal the end of eBay's dream of allowing Internet bidders to join the fray at auctions held in traditional salesrooms. But it was actually just the beginning. Over the last four years, eBay has persevered without the fanfare of previous attempts.
The lure of live Internet auctions is, of course, money. Ebay wants the commissions on high-ticket items (and the $1,500 listing fee from each auction), and the auction houses want access to eBay's 147 million registered users. A small group of pioneering auction houses—including Sotheby's, which continued to participate after its eBay partnership collapsed—struggled to host live auctions online efficiently and effectively. (PBA Galleries developed its own system for online bidding, but that is the exception.)
At eBay Live Auctions, it works like this: Visitors to a special web site (www.ebayliveauctions.com) can "watch" the bidding at hundreds of traditional auction houses. A ticker-tape stream of bids appears in a web browser window, updated in real time as bids flow in from the auction house or Internet buyers. Ebay users can find upcoming sales on the Live Auctions web site or through regular eBay searches, where the lots are marked with a blue paddle icon.
At first, online buyers contended with breakdowns and disruptions to the Internet, a problem that is much less common now, but it still happens from time to time. Bookseller Brenda Richards of Carpe Libris in Weston, Connecticut, told me that when she tried online bidding initially, the live feed slowed down so much that by the time the lot she wanted appeared on her computer screen, it had already sold. As the speed and reliability of the Internet component of the system improved, the only missing piece was effective software to link the salesrooms in far-flung cities to eBay's web site.
A small New York company, Live Auctioneers LLC (www.liveauctioneers.com), founded in a Manhattan apartment in late 2002 by a Brit, Julian Ellison, filled the gap. As David Donaldson, the marketing vice president of Freeman's, a Philadelphia auction house, put it: "The people at Live Auctioneers are an instrumental part of the process. They are working at healing the rift between the eBay mindset and the traditional-auction mindset."
The split is mending fast. Live Auctioneers helps auction houses post their catalogs on eBay and provides tools to manage Internet billing. In thirty months, Ellison's clients have posted almost a million lots online, with a total value of more than $5 billion. Internet bidding is still a small fraction of the total, accounting for $33 million in online sales in 2004, up from $12.5 million the prior year. Ellison expects sales to exceed $60 million in 2005.
According to Donaldson, Freeman's typically sells about 20 percent of its book-auction lots to eBay bidders. He also said that Internet buyers are the underbidder—the second-highest bidder—in an equal or greater number of lots, which pushes up the final price. The underbidders, he said, are "actually the biggest value" to the auction house. Matthew Quinn, of Quinn's Auction Galleries and Waverly book auctions, another Live Auctioneers customer, agreed with that assessment.
What surprises Donaldson and Quinn is how many high-end buyers are using the system. "We thought it would help at the low end of the market. It did bolster that market, but we regularly see bids in the high five figures and low six figures," Donaldson said. According to Ellison, the highest successful bid placed through a Live Auctioneers client exceeded $300,000.
Ed Smith, a bookseller specializing in modern first editions who has bought at auction for more than two decades, has noticed the increase in interest in eBay Live Auctions. It's "both a blessing and a curse," he said in a phone interview. "Bidders used to get many things cheap at auctions, if they had a sharp eye and worked hard. Now it's tougher," because the auction is open not just to those buyers who are willing to travel to the auction house or to buy the catalog and bid absentee, but to anyone with a computer and a broadband Internet connection.