Features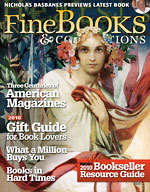 Bedside Manor
New Jersey neurologist and author Steven Lomazow says magazines offer a lot of collecting bang for your bucks. His collection covers three centuries.
What a Million Buys You
You'll have to look hard to find a book that has recently fetched more than a million dollars. Manuscripts and leaves, though—that's another matter.
Michigan's Bibliomaniac
William L. Clements was mad for Americana, and he gave his extraordinary collection to his alma mater. He wanted to share his fascination, but not share it too much.
Gift Guide for Book Lovers
Fine Books has found gifts to please every collector.
Rules He Lived
Abraham Lincoln loved reading and writing so much, he walked 12 miles to acquire Kirkham's Grammar, now among the Library of Congress's "Top Treasures."
Ibsen, Hamsun, and a Tiny Smoked Fish
Perhaps it was the fierce winters that kept them all indoors, working and writing. Norway offers a rich history and collecting opportunity for the book-minded.
Let Freedom Ring
The British outlawed slavery in their own nation in 1807, then went about outlawing it everywhere else. A remarkable 1851 journal by Royal Navy Lt. Gilbert Elliot Jr. records the journey.
Digest
Books In Hard Times
A New Heaven is Begun
Swann Song
Running with Scissors
Postcards from Havana
Plus
Dear Reader
Quotes & Comments
Marketplace
Advertising Index
Featured Columns
Gently Mad
Joseph Heller
In his upcoming book, About the Author: Inside the Creative Process, Nicholas Basbanes reports on the creation of art by some of the greatest authors from the late twentieth-century. Meet Joseph Heller.
FINE MAPS
Ten Maps that Shaped the West
Western Expansion was very much a cartographic experience. Derek Hayes explores ten noteworthy maps.
FINE PRESSes
My Ten Favorite Fine Press Books
If you could choose just ten fine press books, which would they be? Richard Goodman tries to decide.