Features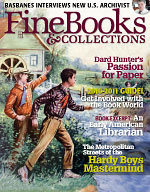 Buy this issue at the Fine Books store.
Edward Stratemeyer's New York (and New Jersey)
The publisher behind the Hardy Boys and Nancy Drew was a metropolitan at heart.
A Passion for Paper
Dard Hunter's Mountain House is a shrine to his Arts & Crafts mastery.
Christopher Columbus Baldwin, Early American Librarian
Peek into Baldwin's diary, from an edition to be published this fall by the American Antiquarian Society.
Digest
Top of the Heap
Mighty Oak
Medical Manuscripts & More
The Art of Losing
Plus
Dear Reader
Quotes & Comments
Marketplace
Advertising Index
Featured Columns
Gently Mad
Collect, Protect, and Preserve
Meet the new archivist of the United States.
Fine Books Review
Bibliophile's Bookshelf
The Oxford Companion to the Book belongs on every bibliophile's bookshelf.30
Fine Books Interview
Enough Bookshelves
Michael F. Suarez is a scholar, poet, professor, editor, director, and collector.
How I Got started
Science Fiction and Decorative Bindings
Jamie E. Jennings, collector of science fiction and decorative bindings.