Features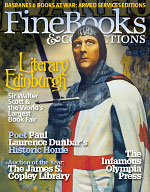 Buy this issue at the Fine Books store.
Literary Edinburgh
The world's largest book fair, Sir Walter Scott's library, and a great many bookshops greet bibliophiles in and around Scotland's capital.
Read Online
Olympia Press published Lolita, The Naked Lunch, and White Thighs. One bibliographer chased every vulgar variant.
Paul Laurence Dunbar
An excerpt from the forthcoming book, A Skeptic's Guide to Writers' Houses, to be published this fall.
Designer Binder in Dubai
Mia Leijonstedt is an award-winning book artist and designer bookbinder based in Dubai.
Digest
Babar's on Exhibit
Fine Press Fest
Going Letterpress
Heritage in NYC
Vampire Lit
Cookbooks Stir
Plus
Dear Reader
Quotes & Comments
Marketplace
Advertising Index
Featured Columns
Gently Mad
Books at War
Armed Services Editions.
Beyond the Basics
All That Glitters
The use of gold in manuscripts, binding, and printing.
On the Block
Copley's Collection
The past, present, and future of the James S. Copley Library.
How I Got started
Ammon Shea
A passion for lexicographic oddities.