Features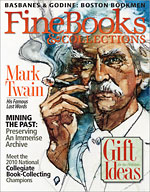 Buy this issue at the Fine Books store.
Read Online
The annual Fine Books gift guide offers 20 terrific ideas for bibliophiles.
Famous Last Words
The centennial of his death and the 175th anniversary of his birth, 2010 has been a yearlong celebration of all things Mark Twain, concluding with his enigmatic autobiography, published this fall.
We Are the Champions
Meet the 2010 National Collegiate Book Collecting Contest winners.
Digest
A young designer rejuvenates Penguin's classics
Book:

Walt Whitman, collage artist
Art:

The New York Art Book Fair
Object:

Preserving a mining archive
Exhibit:

North Carolina's Audubon gallery
Plus
Dear Reader
Quotes & Comments
Marketplace
Advertising Index
Featured Columns
Gently Mad
Boston Bookman
Publisher and collector David R. Godine.
Book Art
Where Book Art and Technology Mingle
Conservator and bookbinder Peter Verheyen.
Beyond the Basics
Original Boards
The attraction of original boards.
In the Library
Magellan and Cook, Cloves and Mangoes
Explore the hidden worlds of Magellan and Cook at Princeton.
On the Block
Great Expectations
Round two of the Arcana sale.
How I Got started
Hollywood Ephemera
Collector Tom Heyes.