Features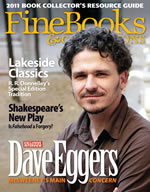 Buy this issue at the Fine Books store.
Read Online
R. R. Donnelley's annual addition to the modest Lakeside Classics series is a boon for American history collectors
The Believer
More than a decade has passed since Dave Eggers launched a spunky literary magazine, Timothy McSweeney's Quarterly Concern. Now he might be the publishing industry's savior.
A Quiet Revolution
Boston socialite and artist Sarah Wyman Whitman
brought book cover design into the modern era.
Digest
Shakespeare's New Play: Is Falsehood a Forgery?
Book:

Assouline's haute couture books
Art:

Kurt Vonnegut's silkscreen prints
Object:

Paperweights charm collectors
Exhibit:

John Fante's literary archive
Plus
FineBooksmagazine.com
Dear Reader
Quotes & Comments
Marketplace
Advertising Index
Read Online
Featured Columns
Gently Mad
Supernova
Star-gazing with Tim Ely
Record-Breaker
The Drudge Report
Poor Samuel Johnson's Dictionary
Book Art
Type to Text
Julie Chen and college-level book arts
Beyond the Basics
Holes in Books
The whole story of holes
In the Library
The Transformation of Tennessee
Tennessee on exhibit in Texas
On the Block
High Spots
Hesketh's high spots under the hammer
How I Got started
Modern Library
Modern Library collector Clauston Jenkins