Features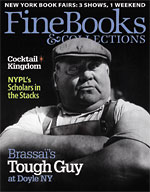 Buy this issue at the Fine Books store.
Read Online
The New York Public Library's Cullman Fellows dive into the institution's archives, manuscripts, and books, and surface with scholarly treasures.
Books and Bailouts
Five days in Dublin, Ireland gives us a taste of a city steeped in its literary heritage.
Cocktail Kingdom
Publisher Greg Boehm's intoxicating collection of vintage cocktail books and barware keeps the gin fizz alive in downtown Manhattan.
Digest
How rare is a proof of Plath's pseudonymously written first novel?
Book:

Major collection of city travel guides
Art:

The market for photobooks
Object:

Preserving the St. Louis Library
Exhibit:

Rembrandt at NYC's Frick Collection
Plus
FineBooksmagazine.com
Dear Reader
Quotes & Comments
Marketplace
Featured Columns
Gently Mad
Save the Books
A flood endangers the Boston Athenæum
Record-Breaker
Checkmate
Twenty grand for a piece of chess history
Book Art
CBAA, Codex, and Beyond
Recent book art fairs and symposia
Beyond the Basics
It's All Greek
Collecting books you can't read
In the Library
Misplaced Medieval Scissors
The Art Institute of Chicago's Altered and Adorned
On the Block
Provenance
The estate of Ben Sonnenberg and association copies
How I Got started
Jane Austen
Jane Austen collector Mary Gaither Marshall