Digest
The Getty Goes Gothic
Illuminated Bestiaries and Bibles on Exhibit By Nate PedersenNate Pedersen is a contributing writer at Fine Books & Collections.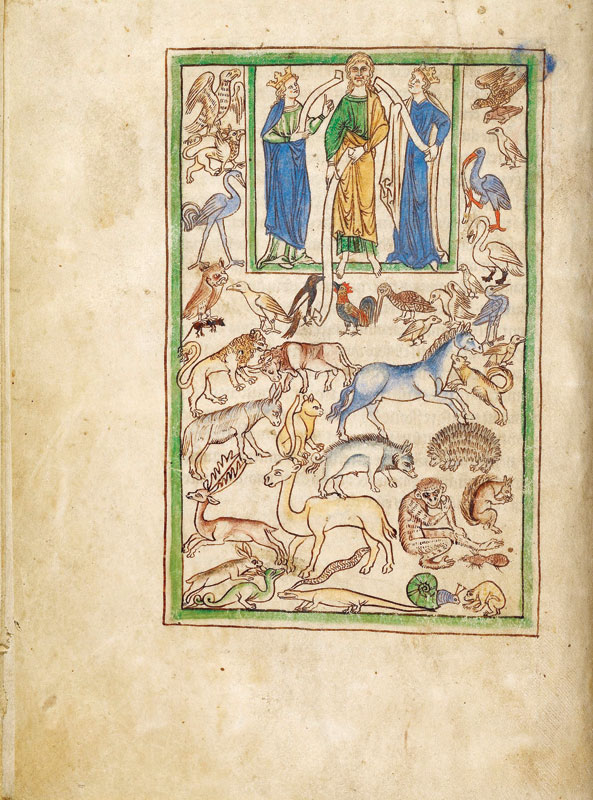 When asked what excites her most about Gothic illuminated manuscripts, Elizabeth Morrison, curator of manuscripts at the Getty Museum in Los Angeles, laughed as she responded, "Can't you tell that it's everything?"
And there's a lot to be excited about in Gothic Grandeur, the new exhibition of illuminated manuscripts at the Getty, on display through May 13, 2012. Exhibition highlights include such medieval manuscript rarities as the "Northumberland Bestiary," the "Abbey Bible," the "Noyon Psalter," and a German Apocalypse leaf, all of which demonstrate the heightened naturalism that characterized manuscript illumination in the High Middle Ages.
Morrison said one of the best examples in this exhibition of this new naturalism is the "Noyon Psalter," one of the "absolute gems" of the Getty's collection. The French psalter, from the Noyon region in the early thirteenth century, is richly decorated. "In the image [from the psalter] on display, you have seated figures who actually look like they're sitting—they have a sense of weight and volume. The drapery flows naturally over their figures. Then there's also a depiction of a demon whispering in a man's ear, and a look of concern on his face. So there's a sense of naturalism both in terms of form and in terms of psychology."
Several other manuscripts from the Getty collection will be on display, with the exhibition highlighting two recent acquisitions in particular. The first, a previously unknown leaf from an Apocalypse manuscript, offers a rare glimpse into German Gothic illumination. The second, the "Abbey Bible," commissioned for a Dominican friary near Bologna, is in turn a superb example of the Byzantine style that played such a dominant role in Italian painting and manuscript illumination in the second half of the thirteenth century.
"The main thing that makes [the "Abbey Bible"] so extraordinary is the absolute exquisiteness of the illumination," said Morrison. "When you see it, it's so spectacular. The fineness of the drawing technique, the absolute way the artist conveyed a sense of volume. You can feel these people standing and sitting and moving and gesturing in a way to me that's absolutely incredible."
But Morrison's favorite manuscript on display is the "Northumberland Bestiary," an "extremely important" example of English Gothic illumination from mid–thirteenth century London. "The illuminations of these animals are so lively that you literally think they're going to jump off the pages. It's a manuscript that has a sense of lightness and liveliness to it that's really unlike anything else in our collection," she said.
In conjunction with the exhibition, the Getty will also be publishing a facsimile of the "Dyson Perrin Apocalypse," now called the "Getty Apocalypse," with commentary by noted illumination scholar Nigel Morgan. The "Getty Apocalypse" is a unique example of a complete Apocalypse manuscript, offering a vivid insight into the fears of medieval England.