Digest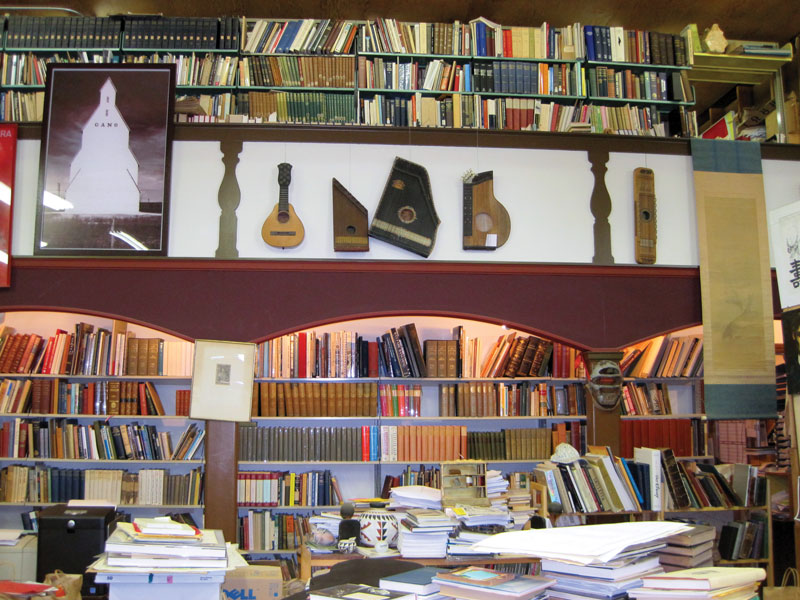 The End of an Era
Almost a year after Peter Howard's death, Serendipity's stock goes on the block By John McIntyre John McIntyre is the editor of Memorable Days: The Selected Letters of James Salter and Robert Phelps. His work has appeared in The American Scholar and Intelligent Life.
Serendipity Books in Berkeley, California, housed hundreds of thousands of books in its heyday. It was the personal fiefdom of Peter Howard, a generous and irascible man who inspired armies of admirers and detractors. His impact on the admirers was surely longer lasting. Scott Brown of Eureka Books in Eureka, California, recalled, "He consistently supported, encouraged, and advised young booksellers, and let them buy stock at advantageous prices." Not surprisingly, Brown said, "At Eureka Books we have emulated a number of Peter's business practices. We haul new acquisitions in paper bags of the same sort that filled Serendipity's aisles. We also put cost and consignor codes in every book, as Peter did, and track our profits on each invoice."
I had never heard of Peter Howard when I asked the publisher Jack Shoemaker at Counterpoint Press for a bookstore recommendation in the Bay area. "You'll want to find a store on University Avenue called Serendipity Books. It's probably the greatest open-stack bookstore in the world. Half a million volumes. First editions, signed copies, just about anything you could possibly want. It's run by a man named Peter Howard. I used to work for Peter, years ago. Tell him I sent you."
I didn't realize then that Jack was trying to ease my way, to give me a chance at a good first encounter. All I knew was that I liked the store's name, the implication of chance. Surely whoever ran such a venture understood the caprices of buying used books.
Howard ran Serendipity for nearly fifty years, first as a part-time concern, out of his home, then as a full-time retail venture from 1968 onward. Serendipity's first proper home was a storefront on Shattuck Avenue. Given the rate at which Howard's holdings grew, it is not surprising that the store sprawled to fill most of the 1700 block of Shattuck Avenue over the next two decades. In 1986 Howard relocated to University Avenue. He employed compact shelving, all but unheard of for a bookstore, in an effort to maximize space. The store was a miracle of disorder nonetheless, though there was an underlying logic, even if only Howard understood it fully.
Like many visitors to Serendipity, I was unprepared for the chaos and brilliance I found there. Serendipity from the outside didn't quicken the pulse. It had stucco walls and a wooden barrel with the word "BOOKS" hanging above the sidewalk, testament to the building's former life as a wine-processing facility. I found Howard at a desk in a sort of clearing. I told him Jack sent me.
"Yeah, I know Jack. He's an old friend, used to work for me years ago." He looked me over, as if trying to guess my connection to his old friend. I almost told him I was working on a book for Counterpoint—I was proud of the book and Jack had published titles I admired—but it seemed slight, standing before the high shelves and crowded aisles, certainly nothing that would impress him. I only bought two books that day, a title by Ford Madox Ford and a Dawn Powell novel. "Interesting choices," he said. They were reading copies, a few dollars apiece. He marked them down further still. His only concession to salesmanship was to say, "There's a whole section of Ford over there," and gesture in its general direction. I had seen it, the early editions of Parade's End and The Good Soldier, their prices far out of reach. "Another time," I promised. I left convinced that I would never find a finer bookstore as long as I lived.
Howard was diagnosed with pancreatic cancer in early 2010. He was circumspect about his chances. "There's nothing to say. People die. We all die. Businesses end," he told the local news website, Berkeleyside.com, in April of 2010. Before he went, however, members of the trade had the foresight to arrange their thoughts and admirations in print. Coordinated by Stephen J. Gertz, Booktryst.com ran them as a five-part series titled A Wake for the Still Alive. The series was later issued in a pamphlet of the same name. It features tributes by more than a dozen booksellers and collectors. It is gratifying to think that he knew, in detail, what regard his peers had for him, their recognition of his impact on the bookselling business.
When Howard died on March 31, 2011, at the age of seventy-two, the future prospects of the store were unclear. He had not groomed a successor, and his two daughters, both nurses, have no desire to take up bookselling. In September, Serendipity closed. It had proven impossible to sell the building and inventory as a unit.
Late last fall estate attorney Gary Lepper finalized terms with Bonhams auction house in Los Angeles to divest Serendipity's inventory. Catherine Williamson, director of fine books and manuscripts at Bonhams, has been working on the collection ever since, because, as she put it, the scope is "overwhelming."
There are hundreds of thousands of volumes at all price points. In modern literature and poetry—two of Howard's specialties—there is Faulkner, Fitzgerald, Hemingway, Kerouac, and Bay-related writers. Some of the finer items, including Steinbeck's manuscript of "The Pearl of the World" (published as The Pearl) and a rare Joyce broadside, will go to auction on February 12, 2012. Williamson said there are other, more obscure collections too, such as Fitzgerald's college scripts and Thurber's college juvenilia, which are "off the radar for a lot of collectors," she added.
Photography, paintings, and the bulk of Serendipity's film scripts will sell in appropriate subject sales later in the year, Williamson said. Common stock will be offered at shelf sales at the store beginning in early February. It may take a year (or more) to dissolve Serendipity's extensive inventory.