Digest
The Big Event for Little Books
Miniature book enthusiasts converge in Asheville, North Carolina, this month
by Michael W. Michelsen, Jr.Michael W. Michelsen, Jr. is a freelance writer who specializes in business and technology subjects. He lives with his wife in Riverside, California, just down the street from his brand new grandson.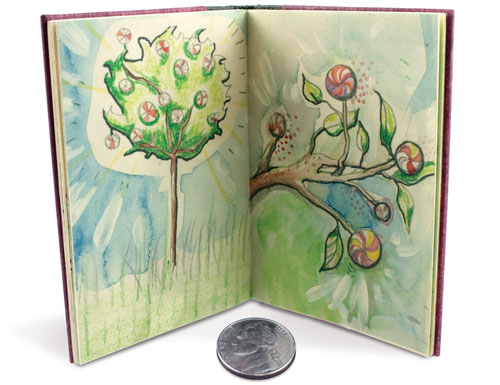 Joan Knoertzer is the owner of the Library Bed & Breakfast in Ann Arbor, Michigan, located on the edge of the University of Michigan campus. Living near a major university does have advantages, which include a lifetime spent with books. Practically every wall of her home business is covered with books, but the star attraction is her collection of miniature books that she keeps scattered throughout the rooms. Knoertzer's entire book collection includes more than sixty thousand books, of which forty-five hundred are miniatures.
"My first miniature book was a Bible that was given to me when I was five years old," Knoertzer explained. "I'm a retired teacher, so I have always loved books, but a few years ago, I saw a newspaper ad for a meeting of the Miniature Book Society (MBS) in Chicago. That's when I thought of that Bible and how much I liked it, so I went to the train station and attended that meeting. I was hooked on miniature books from that point forward."
Knoertzer is so devoted to miniature books that she has one with her at all times, even when she's traveling. "I have a miniature prayer book that fits right in a pocket that is in my purse. I don't go anywhere without it," she said.
Karen Nyman, a miniature book collector and dealer in San Diego, California, is of like mind. A retired consignment furniture dealer, Nyman had her dining room converted to a library and, of necessity, some shelves were quite shallow. Rather than populating them with paperbacks, Nyman started collecting miniatures. "I appreciate the fact that they are well made," she said. "I like looking at them. I like holding them. I like the smell of them. I like everything about them."