Digest
Rockin' the Book World
Musician turned fine book publisher Joe Stefko talks about limited editions of modern books. By Robert Burke WarrenRobert Burke Warren is a writer, performer, teacher, and former globe-trotting musician currently residing in the Hudson Valley.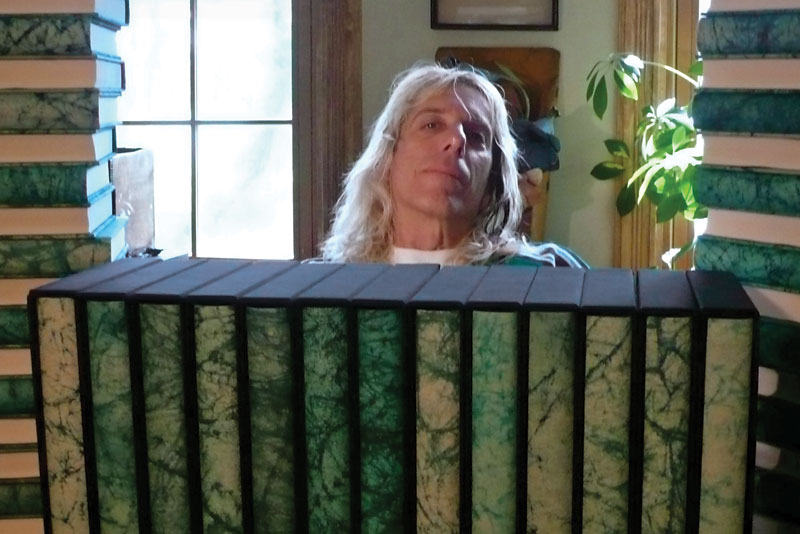 "What band are you in?" asked the man at the grocery store in Catskill, New York. He was addressing Joe Stefko, whose leonine mane, pegged jeans, and tight black T-shirt personify rock n' roll.
"I'm not in a band," Stefko replied. "I'm a book publisher. Really."
Stefko said folks sometimes don't believe him, but it's true. Still, you can't blame them for asking, as Stefko's history hangs about him like an aura; before he launched his award-winning one-man publishing imprint, Charnel House, in 1989, he drummed with Meat Loaf and the Turtles. But you won't find any of that on his company's website. What you will find are beautiful, provocative, limited edition, signed books by Dean Koontz, Tim Powers, Stephen King (as Richard Bachman), and Harlan Ellison.
How did Stefko's path twist from sweat-soaked stages to a restored 1790s farmhouse in the Catskill Mountains, where he, his wife, and Charnel House live?
It began on the road with Flo and Eddie, lead singers of the Turtles. "The three of us got into collecting," Stefko said. "It was my first exposure to modern limited edition books. It was the time when Stephen King made the whole limited edition thing commercial, and the quality of the signed limited editions was worse than the trades from the major publishers; they were clearly selling autographs and spending as little as possible on the books. I had already started collecting more antiquated books and saw that the limited edition was nothing new, and in fact used to be a very special art piece. I wanted to continue that art."
Charnel House began in earnest with Dean Koontz, of whom Stefko is a fan. Koontz gave Stefko a copy of the Beastchild paperback, and, with help from Ken Keller at Nemo Press, Stefko taught himself the basics of fine bookmaking. In what would become a Charnel House tradition, he incorporated aspects of the Beastchild storyline into the binding's design; the numbered copies were bound in lizard, making for an especially tactile reading experience. "Basically I took it and came back almost a year later and handed him a copy of both editions [lettered and numbered—Charnel House produces two versions of each title]. He loved them."
For his part, Koontz said, "Working with Joe is great fun because he's an entertaining guy and because he's got an exceptional talent for designing and producing exquisite limited editions. His books are always thoughtful and clever and well made—and often as downright sensuous as a book can be."
Indeed, Stefko's sense of originality nabbed Charnel House the 1996 Most Collectible Book of the Year Award for the Stephen King (as Richard Bachman) novel The Regulators. Winchester thirty-caliber bullets protrude from the morocco binding, alluding to characters in the tale all shot by that specific brand.
Also impressive is the inclusion of Charnel House's Tim Powers novella, A Time to Cast Away Stones, in Newstead Abbey's library in Nottinghamshire, England. Stefko, a Lord Byron admirer, participated in the Abbey's Adopt-A-Stone program and offered the Abbey the book, which includes reproductions of drawings from Percy Bysshe Shelley's notebook. It was enthusiastically accepted. Stefko pledges a portion of the sale from each copy—he made both a numbered edition of 250 for $250 and a lettered edition of 26 for $1,250—to the ongoing restoration of the Abbey.
Despite its name, Charnel House has given Stefko a second life in which his art acts as a corrective to a loss of tangible craftsmanship; he serves those eager to possess a palpable artifact crafted with as much attention to design as content.