Gently Mad
At the Arion Press
Andrew Hoyem on printing, binding, and selling fine press books in the digital age by Nicholas A. BasbanesNicholas A. Basbanes recently received a National Endowment for the Humanities fellowship to work on his book, On Paper, forthcoming in 2013 from Knopf. His most recent books are About the Author, Editions & Impressions, and A World of Letters. His other works include the acclaimed A Gentle Madness, Every Book Its Reader, Patience & Fortitude, Among the Gently Mad, and A Splendor of Letters.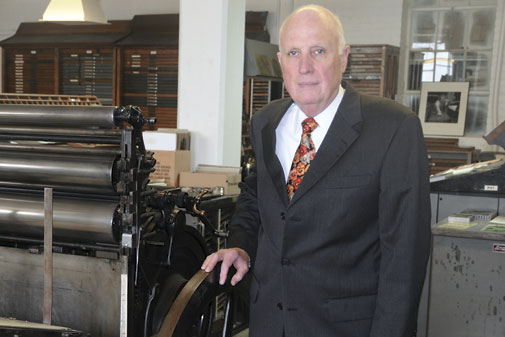 Bibliophiles attending the 46th California International Antiquarian Book Fair in San Francisco in February should consider a side trip to the Arion Press, a working museum of uncommon interest if ever there was one.
Founded in 1975 by Andrew Hoyem as the lineal descendant of the legendary Grabhorn Press with which he had been associated in several capacities since 1964, Arion was based for many years just south of Market Street in an industrial neighborhood that went high tech in the late nineties. Forced to vacate while in the midst of producing his most ambitious project ever—a 1,350-page folio edition of the Bible done entirely by letterpress with type cast onsite from molten lead—Hoyem found sanctuary in 2001 as a cultural tenant in the Presidio, a former Army base that had recently been designated an urban national park within the Golden Gate National Recreation Area.
The move across town involved relocation not only of antique printing presses and more than four thousand cases of vintage metal fonts which by themselves weighed more than one hundred tons, but also the entire type foundry of Mackenzie & Harris, a prominent firm that Hoyem had bought out and folded into his own business several years earlier.
Housed now in a 14,000-square-foot building that was once home to a laundry and steam plant, every phase of this distinctive enterprise except papermaking—typography, composition, printing, design, and binding—is executed by a dozen craftsmen and craftswomen, most of them trained through apprenticeships within the operation.
Carrying the concept of a fully integrated press to its logical end point, Hoyem is also the person who decides the editorial direction Arion takes from project to project, and which works will bear its imprint. As publisher, he is the person, too, who determines which artists will be commissioned to illustrate specific projects; William T. Wiley for the two-volume edition of Edith Grossman's translation of Don Quixote in 2009 and 2010, for instance, or Jim Dine for a suite of etchings and woodcuts for The Case of the Wolf Man, 1993, the text of a case history written in 1914–15 by Sigmund Freud.
The press works on an average of three titles a year, and it just completed its ninety-sixth book. While such an operation is labor intensive to the extreme, the results are a pleasure to behold, and collected appreciatively by individuals and institutions throughout the world. When my wife and I dropped by for a visit a few weeks ago, a pair of binders was working on finished copies of the Arion edition of The Moonstone, the 1868 novel by Wilkie Collins considered by some to be the first work of detective fiction.