Digest
Art Deco Bookends
Bonhams Sells 180 Pairs of Bookends By Karen Edwards Karen Edwards writes about books, food, wine, and pets from her home in Worthington, Ohio.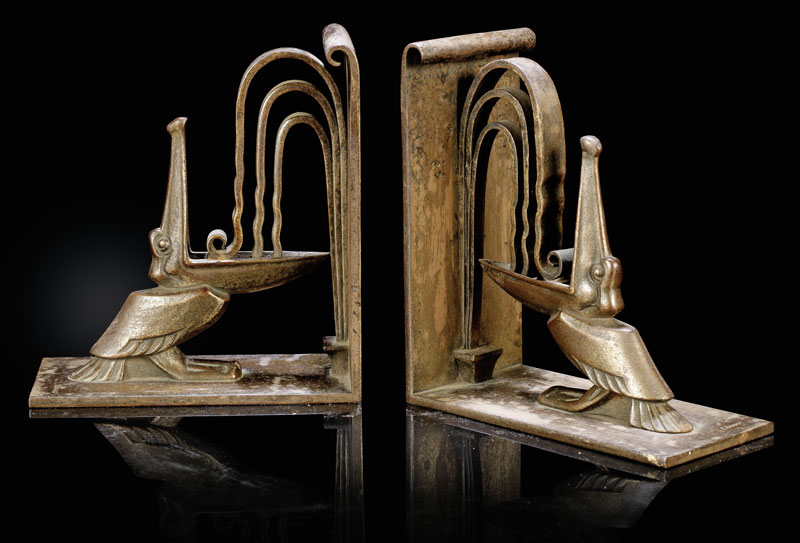 Bookends may be utilitarian to bibliophiles intent on avoiding cocked spines, but for one collector, bookends were themselves objects to pursue. Over a forty-year period, he focused on Art Deco bookends, and his collection of 180 pairs was considered the largest of its kind. This past spring, ninety were offered at Bonhams in London. The remainder of the collection goes to auction on October 1.
"The collector was getting older and was at a point where he wanted to downsize his belongings," said Mark Oliver, director of Bonhams' decorative arts department.
The bookends are primarily European and predominantly French. Some of the better-known designers of the period are represented in the collection, including a pair of frosted and polished glass swallows titled Hirondelle, crafted by the eminently collectible French glass designer René Lalique. The set sold for £1,250 ($2,110).
"Designer name is one of the first considerations in determining the value of bookends," said Oliver, with condition a close second. Robert and Donna Seecof, authors of Bookends: Objects of Art and Fashion, agree that bookends cast by a well-known foundry, like Tiffany or Gorham, hold more value. Subject matter is another consideration, generally determined by the tastes of the collector and by what's popular at the time.
In this collection, for example, animal subjects were prevalent—from rabbits to sea lions to horse heads, and with two of each, a veritable ark. Animals, noted Oliver, reflect the sense of frivolity after the World War and are generally fashionable. A set of 1920s wrought-iron pelicans, designed by Edgar-William Brandt, was among the high earners in this category, soaring to £5,000 ($8,443). Bronze and ivory walrus bookends from the 1930s by G. H. Laurent, impressed with a foundry mark "LN Paris JL," realized £2,250 ($3,818), while a pair of bronze elephant bookends by French artist Ary Bitter fetched £2,750 ($4,666). A couple of Cartier bears sold for £750 ($1,272), although Charles Paillet's bears made more at £1,625 ($2,757). "I had no idea bears were such a popular animal," said Oliver.
Another highlight was a bookends-inkstand combination designed by Jean-Emile Puiforcat circa 1925. The bookends were inscribed "Puiforcat Paris" and stamped with the designer's EP lozenge mark. It sold for £5,000 ($8,443).
Although the Puiforcat set is useful in several respects, most bookends have become, over time, a form of ornamentation, said Oliver. "They're sculptures," he said. "Each one tells a story."
Anyone can begin a serious collection of bookends, with a few insights. "Look for bookends that are mirror images of each other," said Donna Seecof. "When seen together, each should be slightly different, like the image in a mirror. If they're identical, they're not going to be as valuable."
Practical and decorative, bookends can also be valuable collectibles, and they are, of course, the perfect complement to a shelf of beautiful books.