Digest Art
An Artist Inspired by Books of Hours
An installation at the Morgan Library By Liz Logan Liz Logan is a freelance writer based in Brooklyn. Her writing has appeared in ARTnews, The Christian Science Monitor, and O, The Oprah Magazine, among other publications.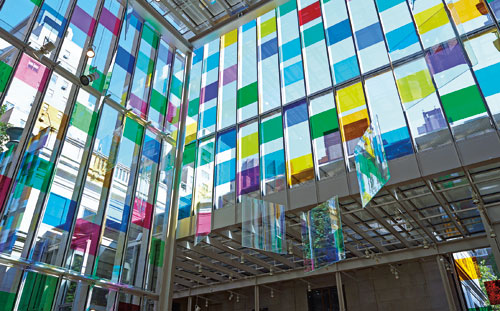 Walk into the airy, Renzo Piano-designed Gilbert Court at the Morgan Library & Museum in New York City and you'll find an ever-changing festival of color that was created using light, glass, and 365 transparent squares in various hues. A Certain Slant of Light is an installation by the artist Spencer Finch, who drew inspiration from the Morgan's illuminated manuscripts.
"Medieval people had a different connection to the world and nature. I wanted to bring that idea of nature into New York, and link the piece to the Morgan's collection," Finch said.
The installation, on view through August 23, 2015, is a contemporary, visual interpretation of a book of hours, a medieval Christian prayer book and calendar often found in a format so small it could fit in the palm of a hand, with illustrations so meticulous that it helps to have a magnifying glass. The vivid squares create a calendar based on the movement of the sun around the atrium. Finch, whose commission for the National September 11 Memorial & Museum, Trying To Remember the Color of the Sky on That September Morning, made headlines earlier this year, often deals with light, color, time, and memory.
For the gel squares applied to the windows of the Morgan's atrium, the Brooklyn-based artist attempted to match the colors found in the institution's collection of medieval manuscripts, including gray, brown, chartreuse, royal blue, and lilac—each one corresponding to a different season. Red-letter days are marked with bold red squares, but instead of Christian holidays, Finch's red-letter days are secular holidays related to his scientific and artistic interests, such as Sir Isaac Newton's birthday on January 4. The red squares align with the sun's arc at noon on those days. Several panes of reflective glass hang in the middle of the atrium, in an ellipse, creating reflections as well as evoking the earth's orbit around the sun.
"It's a meditation on time," Finch said. "A book of hours changes by month, the way the light changes by the hour. I was trying to think about how people who used books of hours understood time differently."
Finch studied comparative literature at Hamilton College and worked in publishing at McGraw-Hill, so it's no surprise that many of his ideas stem from books. Years ago, he went to the site of ancient Troy—in present-day Turkey—to record the light of the "rosy-fingered dawn" that Homer described in The Iliad, and he recreated that light with fluorescent tubes in an installation called Eos (Dawn, Troy, 10/27/02). In other pieces, he pays homage to W.H. Auden and Henry David Thoreau.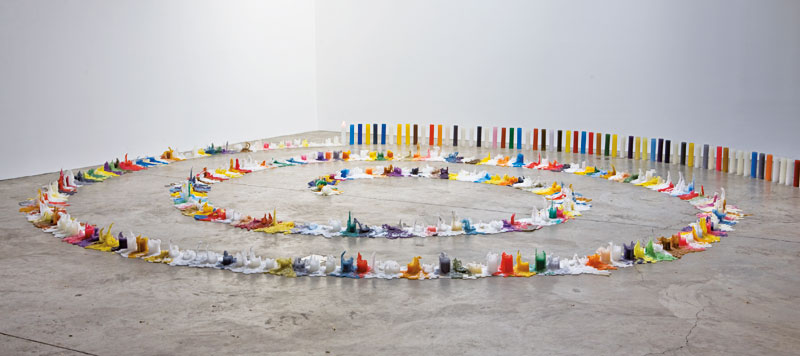 A self-professed "Emily Dickinson groupie," Finch has made several pieces inspired by the poet. One is 366 (Emily Dickinson's Miraculous Year), a reference to the year that the poet wrote 366 poems in 365 days. The piece consists of 366 candles of different colors that burn in succession, each for 24 hours. "It's a weird memorial I wanted to do, to this amazing year of hers. To write that many poems in a year is superhuman," Finch said.
Even the title of the Morgan installation, A Certain Slant of Light, comes from a Dickinson poem. "I keep coming back to her and finding new things," he said. "That's a sign of genius."