Digest
California Beckons Collectors
The CA Antiquarian Book Fair Returns to Pasadena By Stephen J. Gertz Stephen J. Gertz is a lifelong lover and collector of rare books who began his career in the trade in 1985 as a rare book scout and dealer. His writing has appeared in the Los Angeles Times, Huffington Post, Seattle Post-Intelligencer, and various online magazines.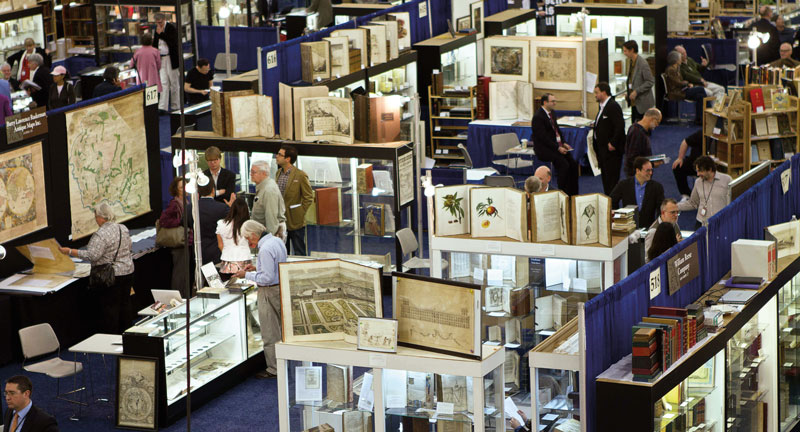 The 49th California International Antiquarian Book Fair returns to the Pasadena Convention Center this year from Friday, February 12, through Sunday, February 14. Over two hundred booksellers from around the world will be exhibiting their wares, providing both collectors and the incurably curious with an opportunity to browse, discover, and buy rare books modest or great but always interesting and often wonderful. The theme for this year's fair is "A Wonderland of Books," a nod to the special exhibit planned in celebration of the 150th anniversary of Lewis Carroll's Alice's Adventures in Wonderland, said Michael R. Thompson, book fair chair of the Southern California chapter of the Antiquarian Booksellers' Association of America, which organizes the event.
As the anchor show for Rare Book Week West, the California book fair draws a dependable crowd of collectors.
Super collector David Rips, who as chief executive officer of Younger Optics has been making the world safe for readers with poor eyesight, has amassed one of the finest collections of rare science and medicine books in the world. By October, he was mentally rubbing his hands together in anticipation.
"I have attended every California fair since I became a collector," he said, "either in Northern California or Southern. I try to attend as many fairs anywhere I can, but the California fair is always tops on my list."
Rips continued, "I usually buy things at the fair I had no idea I was going to see beforehand. The fair is definitely the place where I explore and find treasures. Even if I never bought a book at the fair, it would still be invaluable to me. In order to properly develop knowledge of books, a collector should see and touch as many books as possible. There is no shortcut to that. The California fairs give a collector an unmatched opportunity to see, touch, feel, and learn about lots of books in their field of interest, whatever that might be."
Lifelong collector James Derrick, a teacher in Los Angeles, is another big fan of the California fair. "I look forward to and regularly attend the antiquarian fair when it's in Southern California," he said. "Each time the fair has provided a cornucopia of interesting books. I do visit each booth. It can take two to three days. It is a joy. The book may be old but to me it is new."
Derrick collects books on science, history, architecture, anthropology, fine press, and philosophy in general and political philosophy in particular. He has only one complaint about rare book fairs and what they offer: "Not enough philosophy."
Flea, bassist for the rock band Red Hot Chili Peppers and a book collector relatively new to the hobby, was savoring first editions of The Wonderful Wizard of Oz and Alice's Adventures in Wonderland at the fair when it was last in Pasadena in 2014. He was unfortunately unavailable for comment about his book fair plans this year, but considering that fair organizers are focusing programs and events around Alice, expectations are high that the Australian-born musician might pop in for a visit.