Digest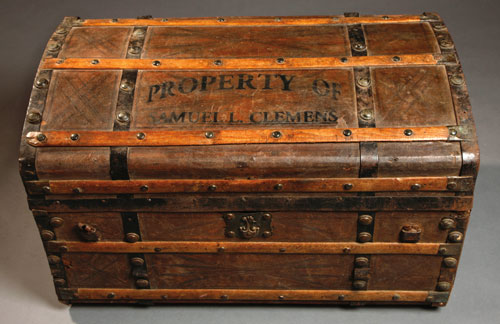 Courtesy of Don Bearden.
Unpacking Twain's Trunk
One man's shabby auction find may very well be a literary treasure chest By Jonathan Shipley Jonathan Shipley is a freelance writer living in Seattle. He's written for such varied publications as the Los Angeles Times, Gather Journal and Lexus Magazine. One of his prized possessions is a first edition of Mark Twain's Roughing It.
The story seems as far-fetched as Mark Twain's tall tales. A man, who by day crafts and restores stained glass, happened by an old trunk at an auction in Kansas City, Missouri, in early 2015. The words 'Property of Samuel L. Clemens' applied in black paint caught his eye. A lifelong fan of the American author born Samuel L. Clemens but better known as Mark Twain, the browser's interest was piqued. He purchased the tatty antique and began a yearlong quest to verify its authenticity.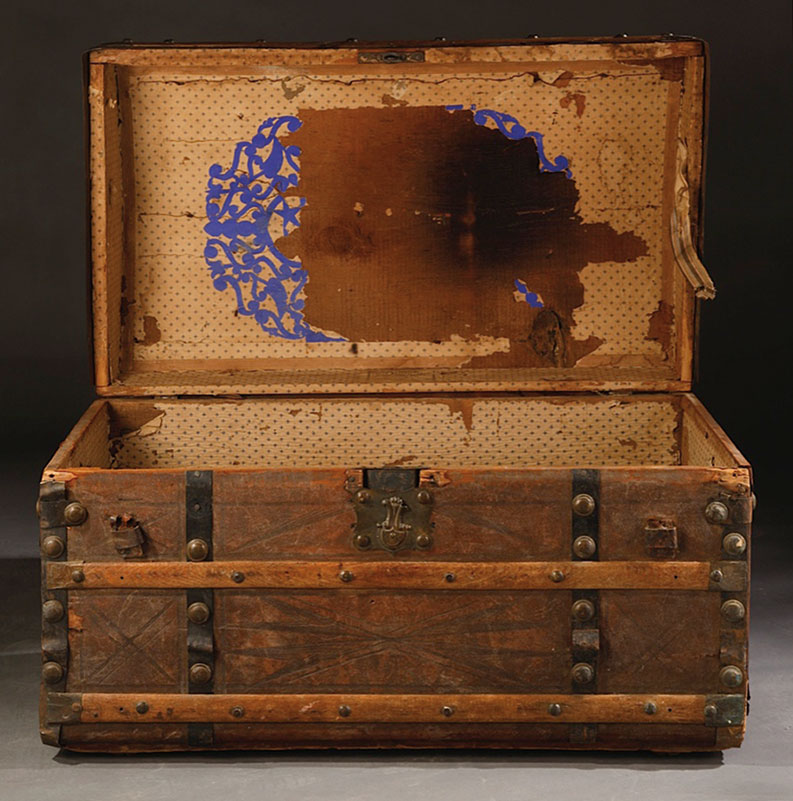 He studied trunk manufacturing of the 1860s. He employed forensic scientists and art conservators. He had conversations with the FBI about stray white hairs he found inside the trunk. He had sodium chloride tests done to ascertain the makeup of the grime on the trunk's surface. He used microscopes, ultraviolet light, and magnifying glasses, all to learn more about the hand-tooled leather trunk and the famous man who once owned it.
"It is time," Twain wrote in a letter dated April 29, 1869, "I was thinking about packing my trunk." Since the fateful day Don Bearden purchased it for himself, he's been trying to unpack the trunk's history and Twain's life with it, bit by bit. "Instinctually I knew it was his trunk—after all, his name is on it," Bearden said. "However, I wanted to go much deeper to discover the trunk's origin of manufacture, history, and existence. I wanted to establish provenance."
Deeper he's gone, with shelves full of Twain books of his own, and help from such varied sources as historical societies, museums, and universities, including Elmira College's Center for Mark Twain Studies and the Mark Twain Project at the University of California, Berkeley. "Each step in this process has been absolutely thrilling," he said.
The first break happened at the Missouri History Museum Library and Research Center in St. Louis. In an 1865–66 Saint Louis City Directory there was a listing for a J. Barwick Trunk Manufacturer on Olive Street. A Barwick label is affixed to the trunk. (Who lived in Saint Louis for a short time in 1867? Twain, that's who.) Bearden was hooked to learn more—like that the font Louize Bold, which was used on the trunk for the name Clemens, was the same font used in many of Twain's published books; that the stenciling on the underside of the lid was very similar to the design used on the book cover of The Adventures of Tom Sawyer; that after one bottles the muck on the trunk's surface, it smells like smoke. "As extraordinary as it may seem, you can still experience his presence with that trunk," Bearden said after sniffing the tobacco residue from the vial. "It was amazing."
He took the trunk to PBS's Antiques Roadshow when it stopped in Little Rock, Arkansas, and was offered the chance to be on-air, but declined because he thought the trunk was worth well more than the appraisal submitted by the show's experts. As he continues to compile evidence that his chest really is a treasure, he hopes to write an e-book about the trunk and foresees a time when he might sell it to a museum or an institution.
"It's the discovery of the unknown," Bearden said. "It's a rush. For a history buff it's the Holy Grail experience."