Special Report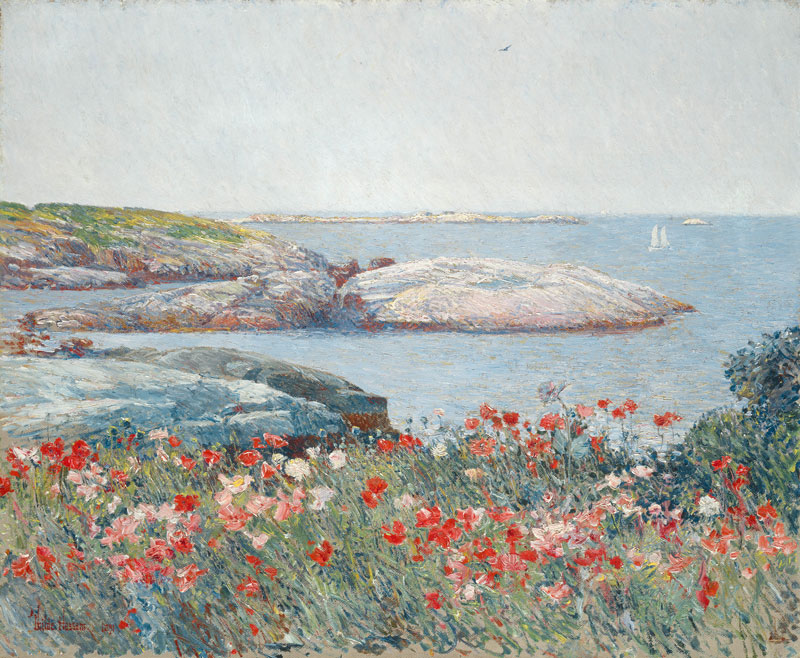 Cultivating Beauty
A new exhibit unites Celia Thaxter's splendid illustrated book, An Island Garden, with Childe Hassam's paintings from the Isles of Shoals
There is no shortage of reasons for why bibliophiles will want to take in a wonderful exhibition of forty oil paintings and watercolors that just opened at the Peabody Essex Museum (PEM) in Salem, Massachusetts, not least of which is the homage it pays to what is arguably the most beautiful and most consequential art book produced in the United States in the nineteenth century, Celia Thaxter's An Island Garden (Houghton Mifflin, 1894), with chromolithographic illustrations and floral decorations by the great American Impressionist artist, Childe Hassam (1859-1939), a tour de force in every respect, and highly coveted by collectors.
While by no means the centerpiece of American Impressionist: Childe Hassam and the Isles of Shoals, a copy of the rarity occupies a display case of its own and gives necessary context to the magnificent works that adorn the walls of three adjoining galleries in the museum. The exhibition runs through November 16, and is co-sponsored by the North Carolina Museum of Art in Raleigh, North Carolina, where it was on view before opening over the weekend in Salem.
In an unusual interdisciplinary approach to exhibitions of this nature, the curators, art historians Austen Barron Bailly and John W. Coffey of the respective museums, worked closely with marine scientists at the Shoals Marine Laboratory, who mapped the artist's painting sites on Appledore Island six miles off the coasts of Maine and New Hampshire, and documented the distinctive geological aspects of the terrain Hassam depicted.
Best known for the urban scenes he painted of Paris, New York, and Boston, Hassam began visiting Appledore in 1886 at the invitation of Celia Laighton Thaxter (1835-1894), an extraordinarily popular poet of her time, and the owner of a resort hotel that welcomed writers, artists, and musicians during the hot summer months. Hassam enjoyed these visits enormously, and kept coming back year after year over four decades, always taking the opportunity to paint various aspects of the largely treeless island, at 207 acres, the largest in a Gulf of Maine archipelago known as the Isles of Shoals. Thaxter was an ardent gardener, something of a pioneer in that she cultivated plants on a small patch of the island by her cottage strictly for their beauty, not as food, inspiring Hassam to produce the magnificent watercolors that were used in the book, which she wrote as a paean to her passion.
Thaxter's death did not deter Hassam from continuing his summer visits, though his later work focused more on the distinctive natural features of the island, not the garden, and it is these works—drawn from numerous institutions and private collections, and spanning the years 1886 to 1912—that comprise the PEM exhibition, the first in twenty-six years to focus entirely on these paintings (the last one, Childe Hassam: An Island Garden Revisited, was mounted at Yale in 1990). A most appealing component to this exhibition is a suite of specially commissioned black-and-white photographs of the island as it appears today, taken by Alexandra de Steiguer, a professional photographer based in York, Maine, who for the past nineteen years has worked as the Isles of Shoals winter caretaker. She told me at the press opening last week that she works exclusively with film, and does all of her printing in her own darkroom; how splendidly quaint is that?
For those who can't see the exhibition in person, fret not, Yale University Press, in conjunction with the two hosting museums, has issued a superb catalogue, American Impressionist: Childe Hassam and the Isles of Shoals, with a number of excellent essays on the artworks and the geology, along with one hundred color plates and reproductions of Alexandra de Steiguer's photographs.
If you do make a day trip to PEM, give yourself time to take in the outstanding Auguste Rodin exhibition on the third floor of the museum, Transforming Sculpture, featuring more than 150 pieces of the sculptor's work in a variety of formats. While you're at it, the seventeenth-century House of the Seven Gables, the Witch House of Judge Jonathan Corwin, and the birthplace of Nathaniel Hawthorne are all within hailing distance. And if you really want to top off the day in style, treat yourself to some fried whole belly clams at any one of several fabulous seafood restaurants in the area, you won't find any better, anywhere; all of Essex County, for that matter, is Ipswich clam country.
Destroyed by fire in 1914, the old Appledore Hotel is long gone, as is Celia Thaxter's cottage, but the garden has been recreated according to her original plans. Seasonal day trips to the island are available, and can be arranged through a program managed by the University of New Hampshire under a federal grant.
A couple of side notes: I wrote at some length in my 2002 book Among the Gently Mad (pp. 120-126) about my personal quest for copies of An Island Garden, and how it inspired a serendipitous collecting interest of mine for nineteenth-century American book illustration, with a special focus on Winslow Homer, which I still indulge. An Island Garden was issued in a first printing of 1,019 copies in March 1894 just a few months before Thaxter's death, followed six months later by a second printing of another thousand. The Bibliography of American Literature (BAL 19923) declares it to be "one of the most elaborate pieces of bookmaking of the period." A facsimile edition was issued by Houghton Mifflin in 1988.
Given the heavyweight stature of Childe Hassam, and the sublime beauty of the watercolors reproduced in a lithographic process said to have involved the use of up to thirty lithographic stones, it is easy to overlook the importance of the Art Nouveau binding by Sarah Wyman Whitman (1842-1904), which is a masterwork unto itself. Whitman created a gilt pattern of stylized poppies with attenuated stems and heart-shaped roots on gold-stamped publisher's green cloth, though a few, far scarcer copies, were on white cloth. Whitman's former residence at 77 Mount Vernon Street on Beacon Hill in Boston has been home to the Club of Odd Volumes since 1936. See more on her work.