Digest Object
Collecting for "Vidiots"
VHS Culture in the New Millennium By Joe Fay Joe Fay is a bookseller and cataloger at the William Reese Company in New Haven, CT. He also hosts his own annual VHS swap meet called Magnetic Fest at Lyric Hall in New Haven, which occurs next on April 29, 2017.
The advent of the Video Home System (VHS) in 1977 revolutionized the way we watch movies. With VHS, for the first time since the invention of filmmaking, vast legions of the movie-loving masses held the power to select, take home, and watch at their leisure, well, anything that the studios and distributors memorialized on magnetic tape.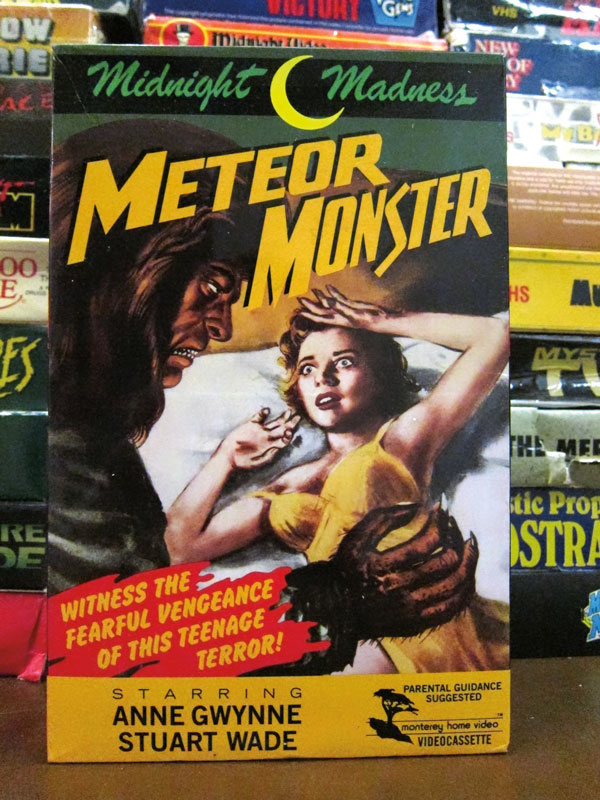 And then faster than you could say, "The tape snapped!"—VHS was gone. Replaced by DVD in the 1990s, then by Blu-ray and digital streaming, VHS receded into obscurity. Only, the tapes never went away, and while most people embraced newer media, a small but dedicated group of video junkies were busy preserving all the wild, wacky, and weird that VHS brought to the world.
"Collecting VHS is a perpetual adventure full of discovery… I think it's a lot of love for obscure film and a penchant for physical media. It's an experience," said Josh Schafer, publisher of Lunchmeat, a magazine devoted to vintage VHS.
Yes, there is an active collecting community for VHS tapes. (Serious genre movie nerds feel very comfortable with their own kind.) The main motivation for collecting them echoes down through the various objects we all covet; like books, manuscripts, or art, collecting VHS is about preservation. Whether protecting the artifact itself or ensuring that movies that have not graduated from VHS to any subsequent format survive for future generations—about half of the content delivered on VHS never made the leap to the digital realm—most VHS collectors carry with them the sense that when they rescue a rare VHS from the local flea market, garage sale, or thrift shop, they are safeguarding a piece of film history. Like it or not, movies like The Texas Chainsaw Massacre, Slumber Party Massacre, and Microwave Massacre are a vital part of our collective pop culture.
Zack Carlson of Bleeding Skull Video, a new VHS and digital label dedicated to reviving some of these retro flicks, put it this way: "VHS actually changed the way we consumed entertainment. The video rental store was a huge part of that. It's like when the phonograph was invented, and people no longer had to go see a symphony to hear music. It was a genuine revolution."
As with almost any collecting field, certain inevitable supporting and supplemental phenomena followed: price guides, news articles, record-breaking sales (famously, a copy of the shot-on-video blaxploitation cult classic, Tales From the Quadead Zone, sold for almost $700 on eBay a few years back, sparking a firestorm both of bewildered debate and renewed interest in the hobby), websites (see vhscollector.com), blogs (notably bleedingskull.com), collector groups, print magazines & fanzines (notably, the aforementioned Lunchmeat and Blood Video, the brainchild of collector Matt Desiderio), documentaries (the best of which is Josh Johnson's 2013 Rewind This!), annual swap meets and conventions (the cream of the crop being Severed, run by Earl Kess, and delivering VHS madness every May in Stroudsburg, Pennsylvania), and academic interest.
That's right, academic interest, up to and including Yale University, which acquired a few thousand VHS tapes from a collector in Ohio in 2015. The duo responsible for the purchase of the collection—librarian David Gary, now with the American Philosophical Society, and Dr. Aaron Pratt, who completed his PhD at Yale and now teaches Shakespeare at Trinity University in San Antonio—hosted an academic conference at Yale last spring called Terror on Tape: An Interdisciplinary Symposium on the History of Horror on Video.
"[The] democratic nature of the medium, its consequences on cultural trends of the 1980s and 1990s, and the rising interest in materiality in the wake of the digital revolution make VHS an important area of interdisciplinary study," said Gary.
Perhaps the most significant aspect of the new interest in VHS is the revival of the production and distribution of movies in the format. It's almost like 1981 again. Almost. Newer companies, like Louis Justin's Massacre Video, re-release rare and practically unobtainable VHS titles like Wally Koz's 1988 shot-on-video classic 555 (track it down if you have ANY interest in schlock video). In fact, the Massacre Video limited edition re-release of 555 is also now a relative rarity in the market, akin to the appeal of Limited Editions Club books—not first editions, but attractive alternate takes on the real thing. Further, Justin and Massacre Video are producing the sequel to the aforementioned Tales From the Quadead Zone, currently in post-production. Tales From the Quadead Zone 2 hits VHS next year. This is a phenomenon only made possible by the current resurgence of interest in video culture—without deep support for an obscure little horror flick from 1987, spurred on by collectors, there wouldn't be a sequel in 2017.
And if you've read this far, you might be wondering why most of what's been mentioned relates to genre movies on VHS, specifically horror. The answer is unclear, but it's the same answer to the question involving why monster kids from the 1950s still love Bela Lugosi and Boris Karloff. It's probably just nostalgia. We've just replaced Famous Monsters of Filmland and 16mm one-reelers with Fangoria magazine and VHS tapes.
VHS, and in a larger sense, home video, endures. Whether it is Megan Ellison saving Vidiots Video in Santa Monica, California, from foreclosure, or Scarecrow Video in Seattle transforming itself into a nonprofit to maintain the largest public video selection in the world, people have come to realize the importance of home video in the culture.
To paraphrase Mark Twain, the rumors of the demise of VHS have been greatly exaggerated.