Digest
Heirloom Fruit, Vintage Books
The working library of two Colorado orchardists By Erica Soon Olsen Erica Soon Olsen lives in Cortez, Colorado. She is the author of Recapture & Other Stories, a collection of short fiction.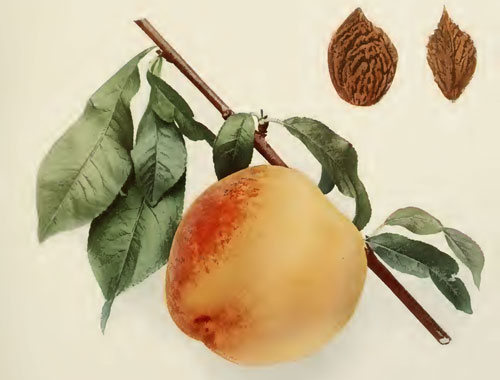 Addie and Jude Schuenemeyer look for books that aren't pristine. They're orchardists, and they've been known to take their nineteenth-century manuals on fruit growing into their orchard and greenhouse in Montezuma County, Colorado. In fact, Jude taught himself to graft with his ninth edition (revised) of The Fruits and Fruit Trees of America, by A. J. Downing (New York, 1849).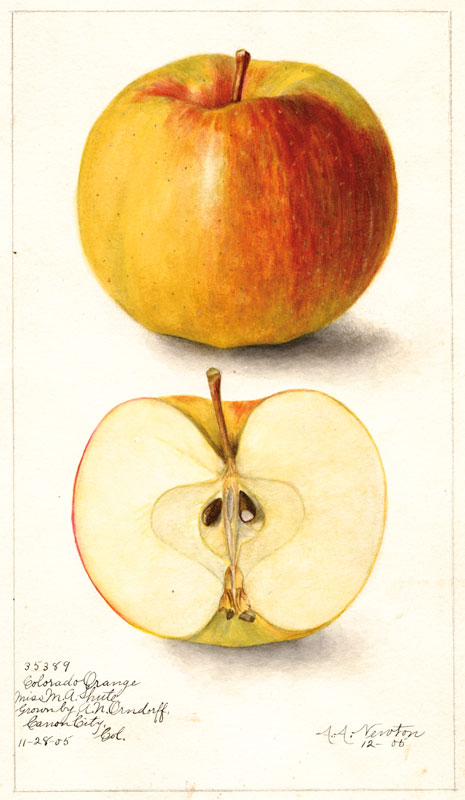 Former plant nursery owners, the couple founded the Montezuma Orchard Restoration Project, a nonprofit that works to preserve southwestern Colorado's fruit-growing heritage. Their lives as fruit explorers began after they bought a neglected peach orchard in McElmo Canyon, an agricultural oasis between red rock cliffs and the 9,980-foot Sleeping Ute Mountain. They knew Montezuma County once had a thriving fruit economy, a quirk of climate and altitude; at the 1904 St. Louis World's Fair, local orchards won three gold medals. Commercial agriculture changed all that. The 17,000 American varieties of Malus domestica in the 1800s were replaced by what Addie terms "the shiny red apple." Yet heirloom varieties still grew on farms throughout their region. The Schuenemeyers wanted to identify these survivors.
In 2006, Jude came home from a road trip with a copy of The Peaches of New York (Albany, 1917) by U. P. Hedrick, purchased at an antiquarian bookshop. "It cost a couple hundred bucks," Addie recalled. "I thought he was crazy." Despite the title, the century-old book is comprehensive in its approach, and it held answers to their questions: What's growing in Colorado's old orchards? How can we bring these rare varieties back? Searching AbeBooks.com and out-of-the-way bookstores, they've since acquired other volumes of pomology—the science and practice of fruit growing—including S. A. Beach's Apples of New York (Albany, 1905).
Their working library also includes the first American edition of A Treatise on the Culture and Management of Fruit Trees, by William Forsyth, "Gardener to his Majesty at Kensington and St. James's," with an American supplement by William Cobbett (Philadelphia, 1802). It's thought to be the first American book about fruit growing. Cobbett visited Forsyth's garden in the summer of 1801 and praised the exactitude of his drawings.
Addie and Jude will tell you Cobbett was right—pomological books are valuable because of their precise illustrations and descriptions. "The lenticles, the limbs, the branching structure, the fruit itself, all the botanical characteristics and the identifying factors … they're incredibly relevant for us in working with hundred-year-old trees," Jude said.
Fruit illustration reached a peak with the US Department of Agriculture's Pomological Watercolor Collection; most of the images were created between 1894 and 1916. The collection includes an astonishing 7,584 watercolors, lithographs, and drawings, 3,807 of them apples. "What's cool is they didn't try to make the apples look pretty," Jude said. The images were intended to be documentary, capturing flaws as well as beauty. The collection has been digitized and is available online.
Using the USDA collection and their library, Addie and Jude have succeeded in identifying endangered apples such as the "Colorado Orange," which they rediscovered in 2012 as a single extant tree. That tree perished during a cold spell in 2014, but by then scions had been grafted, hopefully saving the variety from extinction. To share their knowledge, Addie and Jude are mapping orchards, creating a database of old Colorado apples, and presenting workshops on grafting and pruning—all with the help of vintage volumes. "We need these books," Addie said. "We'd be lost without them."