Steinbeck
John Steinbeck's Western Flyer Resurfaces
A foundation is restoring the boat Steinbeck and marine biologist Ed Ricketts chartered for a journey they later chronicled in a book called Sea of Cortez: A Leisurely Journal of Travel and Research By Jonathan Shipley Jonathan Shipley is a freelance writer living in Seattle. He's written for the Los Angeles Times, Gather Journal, Uppercase, and many other publications. He is currently working on putting together a poetry festival celebrating the life and work of Richard Hugo.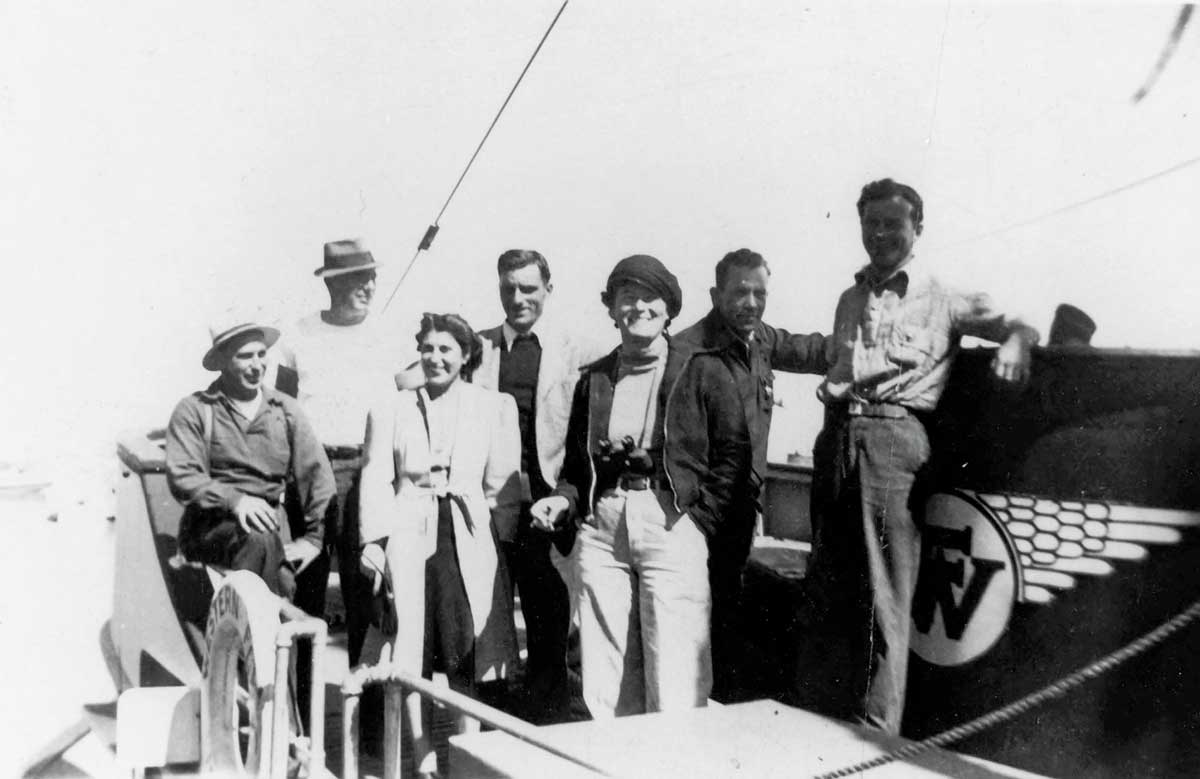 "It is amazing how one book can change so many lives." This from a shipwright— bearded, in a work shirt, sleeves rolled up, jeans, and boots—as he takes me aboard an old sardine seiner called the Western Flyer. It lies cradled in a boatyard in Port Townsend, Washington, and I've come to visit it, like a pilgrim. The book the shipwright is referring to is John Steinbeck's The Log from the Sea of Cortez (1951). It changed his life, too. Chris Chase sold his business to be the project director of the Western Flyer Foundation, a non-profit formed to not only restore the boat Steinbeck and his best friend, marine biologist Ed Ricketts, chartered in 1940, but to use it as a research vessel for young people. "To stir curiosity," their mission statement reads, "by connecting art and science with the spirit of John Steinbeck and Ed Ricketts and the legacy of the Western Flyer."
"There is a spirit watching over this boat," Chase said, steering me into the hold. It smells of old wood, diesel, and salt water. "What is it about this boat that continually inspires? How did this boat even survive?" he asked aloud.
The seventy-seven-foot boat was built in Tacoma, Washington, by the Western Boat Building Company in 1937. It has sunk three times. The last time, it was underwater for about seven months and deeply assaulted by the elements of nature. It was nearly a total loss and would have been scrapped had it not been taken to Port Townsend for renovation by those that cared about its rich literary history.
It was 1940. Steinbeck was suddenly, crushingly famous for having just published The Grapes of Wrath. He wanted to get away from the maelstrom of fans and harsh critics, and, hopefully, repair his marriage with his wife, Carol. (They would start divorce proceedings shortly after the six-week Sea of Cortez journey.) Maybe, he thought while planning the trip with his friend Ricketts, he would stop writing fiction period.
Ricketts was Doc in Cannery Row and its sequel, Sweet Thursday. Ricketts was also the inspiration for Slim in Of Mice and Men, Doc Burton in In Dubious Battle, and Jim Casy in The Grapes of Wrath. Steinbeck said of his relationship with Ricketts that it was "closer than most friends and closer than most husbands and wives." Ricketts had published Between Pacific Tides, a pioneering study of intertidal ecology, in 1939, the same year Steinbeck had published Grapes. The two authors were inspired to team up, get a boat, take it to Mexico, and write a book together.
Originally titled Sea of Cortez: A Leisurely Journal of Travel and Research, their book was published in 1941. It included a narrative log of the journey plus a 328-page catalogue of sea creatures and focused on the interconnectedness between single organisms and the larger ecosystems. It voiced concerns of environmental degradation. It took note of the gap between the methods of science and faith—and the overlap between the two: "It is advisable to look from the tide pool to the stars and then back to the tide pool again." When the log was reissued ten years later under Steinbeck's name alone, however, there was some dispute over authorship, with some claiming that Ricketts' contributions hadn't been fully recognized.
"The Log from the Sea of Cortez is a book about philosophy," Chase said, as we toured the galley where Steinbeck and Ricketts drank, the engine room where Steinbeck snuggled up against the motors, and the cabin where Carol slept (she was written out of the book almost completely). "That's why the book still resonates … why people come to see this boat. It changed their way of thinking." If the boat is, indeed, a pilgrimage site, it's largely due to Ricketts' ecological—even Transcendent—philosophies, ones he discussed with Steinbeck deep into Mexico, the slap of water on the sides of the Western Flyer. In terms of visitors, Chase told me, "You're one of the ten percenters for Steinbeck."
The Western Flyer is owned by John Gregg, founder of California's Gregg Drilling & Testing. He bought the scrap-worthy vessel for, reportedly, $1 million in 2015. He then started the Western Flyer Foundation with Susan Shillinglaw, director of the National Steinbeck Center; Richard Brusca, executive director emeritus of the Arizona-Sonora Desert Museum; and William Gilly, Stanford University professor of biology. They anticipate completing the boat's restoration by 2020, the eightieth anniversary of Steinbeck and Ricketts first setting sail. The organization is looking to use the historic vessel to offer free at-sea experiential learning for students and children, from Alaska to Mexico. When completed, it will have cutting-edge technologies, such as a hybrid silent electric-driven engine, state-of-the-art classrooms below deck, and a remotely operated underwater vehicle capable of operating at a depth of 4,000 meters.
As we continued our tour, Chase pointed out calcium deposits on cabinet doors, planks that will need to be replaced, and barnacles on the toilet. "Can you imagine all the sea creatures swimming through this boat?" It seems like a daunting project to get it out onto the open seas again in two short years, and yet, as Steinbeck wrote, "Apparently the builder of a boat acts under a compulsion greater than himself. Ribs are strong by definition and feeling. Keels are sound, planking truly chosen and set. A man builds the best of himself into a boat—builds many of the unconscious memories of his ancestors."