In the Library
A Quest for Illumination
The Hebrew manuscript at the heart of the Getty's Three Faiths exhibition By Elizabeth Morrison, Kristen Collins, and Bryan Keene
The Art of Three Faiths: A Torah, a Bible and a Qur'an is not merely an exhibition but represents the culmination of a thirty-five-year search for a Hebrew manuscript. As curators of manuscripts at the J. Paul Getty Museum, we work with a rich collection of books written and decorated by hand from the Middle Ages, Renaissance, and beyond. Like all collections, ours reflects the tastes and interests of those individuals who assembled it: the core was formed by about one hundred books and leaves assembled by Peter and Irene Ludwig of Aachen, Germany. They purchased heavily in the areas of German, Flemish, and French manuscripts, with important representative examples of Byzantine and Armenian illumination. With the exception of one stunning Qur'an, however, all of the so-called "Ludwig manuscripts" in the Getty's collection were made for Christian use. Since 1983, when the Getty acquired the Ludwig collection, we have been actively searching for a Hebrew illuminated manuscript to expand our ability to represent the many religious traditions of the Middle Ages.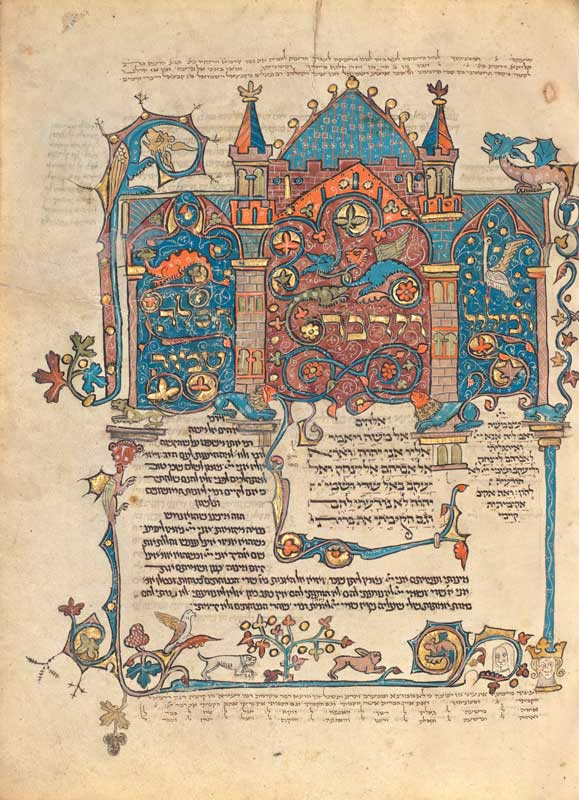 For a number of reasons, Hebrew illuminated books are exceptionally rare. While many people might assume that the cause for this lay in Jewish proscriptions against figural imagery, there is a small but substantial number of richly illuminated Hebrew manuscripts that counter this assumption. Their relative rarity is, in part, the result of the status of Jews in Western Europe during the Middle Ages. As "out-groups" living within the predominantly Christian society of Western Europe, Jews did not control the courts or monasteries that, for much of the Middle Ages, functioned as the major centers of manuscript patronage and production. Christian law also provided a stumbling block: Jewish craftspeople in Northern Europe were not allowed to join painting guilds. Thus many of the illuminated Hebrew books from the high Middle Ages are the product of cross-cultural exchange, in which Jewish scribes and Christian artists combined skills to manufacture exquisite books together.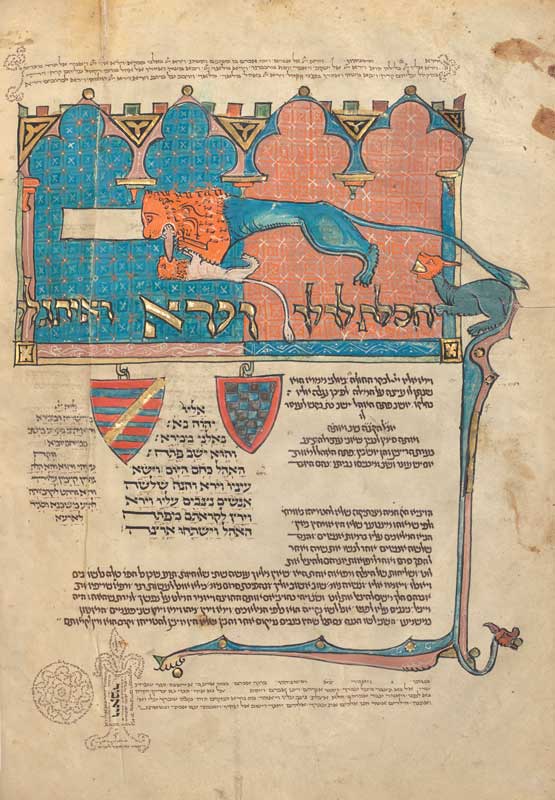 This year, thirty-five years after our founding curator drew up the ideal "wish list" of desired acquisitions for the collection (a list, incidentally, that included a number of Hebrew manuscripts), we were able to purchase one of the most elaborate such examples to survive from the Middle Ages. The Rothschild Pentateuch (now Ms. 116 in the collection) contains the first five books of the Hebrew Bible, otherwise known as the Torah: Genesis, Exodus, Leviticus, Numbers, and Deuteronomy. The manuscript is richly decorated—teeming with hybrid figures, animal and humanoid, as well as spectacular displays of a calligraphic virtuosity (known as micrography), the manuscript's vibrant colors and gleaming gold distinguish it from the greater part of medieval Hebrew book production, which followed a largely textual tradition.