Special Report
Reading in the Dark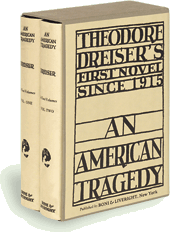 An American Tragedy
Publisher: New York: Boni & Liveright, 1925
Born in Terre Haute, Indiana, in 1871, Theodore Dreiser was an American novelist and journalist. He pioneered the naturalist school and is known for portraying characters whose value lies not in their moral code, but in their persistence against all obstacles, and literary situations that more closely resemble studies of nature than tales of choice or agency. (Van Doren)
Haycraft Queen cornerstone.
Two volumes housed in a publisher's slipcase, identical except where noted. Black cloth with gilt titles on the spine, and "Vol. 1" in gilt ("Vol. 2" on the second volume) just below the publisher's name at the heel. Boni & Liveright logo on the spine in blind, just above the publisher's name. Author's initials at the center of the front board, in a monogram style. No topstain. Date of MCMXXV on the title page, with no statement of edition or later printings on the copyright page. Front flap indicates price as "2 Vols. $5.00" at the top right corner of the front flap, followed by a plot summary that continues to the end of the rear flap. Rear panel begins with a one-paragraph quote by H.L. Mencken about Dreiser, beginning with "He stands alone..." followed by a woodcut illustration of Dreiser, signed "SLH," then a two-column list of Dreiser's other books, beginning with An American Tragedy, with seven titles in each column. Publisher's slipcase is thick gray card stock, a bit too small for the two books, with a paper label on the front panel only, replicating the front panel of the book jacket exactly, except for the added line at the bottom that reads, "Published by Boni & Liveright, New York."
A Place in the Sun
Producer: Ivan Moffat, George Stevens
Screenwriters: Michael Wilson, Harry Brown
Cinematographer: William C. Mellor
Composer: Franz Waxman
cast: Montgomery Clift, Elizabeth Taylor, Shelley Winters, Anne Revere, Raymond Burr
Studio: Paramount, 1951
Alternate Titles: The Lovers (working title)
Runtime: 122 minutes
Director George Stevens: "I had read Dreiser's novel as a young man and was quite impressed with the hazards of the protagonist, and wanted very much to make a film of it. The [public] wasn't crying out for Marxist-Leninism in 1946 like it might have been in 1912 or 1922, but we thought the story was valid and that it could be updated to the present era with some reasonable editing, and relate perfectly to what was going on in 1946. Paramount had title to the book, but they didn't want the film. They said they had already made it years before (as An American Tragedy in 1931), and it had been a failure. It was obvious to me that they hadn't made the first film properly. It had been produced at a time when they weren't prepared to undertake a story of that character and consequence. They had done some cut-out episodes from the story, like you do in a funny paper, with none of the nuances or subtlety of the novel.
"[We finally won approval, though, and moved ahead] to make the film with real excitement. We [did] it very carefully, [and] in many ways it was designed with a form similar to a symphony, with its moods, interludes, and alternate changes of pace. It had real bravura, with naturalist episodes in between." (Hughes)
Reference: Selby, Silver and Ward