Special Report
Reading in the Dark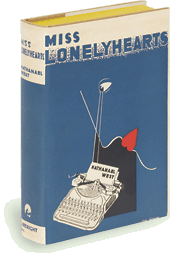 Miss Lonelyhearts
Publisher: New York: Liveright, 1933
Born on the Upper West Side of New York City, Nathanael West was an American author and screenwriter. Although he had been working on his writing since college, it was not until his quiet night job at a hotel that he found the time to put his first novel together. It was at this time that West wrote what would eventually become Miss Lonelyhearts. In 1931, however, two years before he completed Miss Lonelyhearts, West published The Dream Life of Balso Snell, a novel he had conceived of in college. By this time, West was working within a group of writers in and around New York that included William Carlos Williams and Dashiell Hammett.
In 1933 West bought a farm in eastern Pennsylvania but soon got a job as a contract scriptwriter for Columbia Pictures and moved to Hollywood. He published a third novel, A Cool Million, in 1934. None of his three books sold well, however, so he spent the mid-1930s in financial difficulty, sporadically collaborating on screenplays. Many of the films he worked on were "B" movies, such as Five Came Back (1939). It was at this time that West wrote The Day of the Locust. taking many of the settings and minor characters of the novel directly from his experience living in a hotel on Hollywood Boulevard.
Brown cloth with titles and rule in silver on the spine against a black panel, publisher's name in silver at the heel with no panel. Yellow topstain. No statement of edition or later printings on the copyright page. Front flap shows a price of $2.00 at the top right corner, followed by a plot summary. Rear flap is an advertisement for Light Again by Blair Niles, ending with a price of $2.00 at the bottom right corner. Rear flap shows a "faked" facsimile of three letters (each laid on top of the one before it) addressed to the book's title character.
Lonelyhearts
Producer: Walter Reilly, Dore Schary
Screenwriter: Dore Schary
Cinematographer: John Alton
Composer: Conrad Salinger
Cast: Montgomery Clift, Robert Ryan, Myrna Loy, Dolores Hart, Maureen Stapleton, Jackie Coogan
Studio: United Artists, 1958
Alternate Titles: Miss Lonelyhearts
Runtime: 100 minutes
Nathanael West's novel Miss Lonelyhearts was first adapted for the screen in 1933 as Advice to the Lovelorn, starring Lee Tracy. This first adaptation used little of the novel's content but took advantage of the topic as the basis for a film comedy. In 1957 the novel was adapted into a stage play entitled Miss Lonelyhearts by Howard Teichmann. It opened on Broadway at the Music Box Theatre on October 3, 1957, but ran for only twelve performances.
Lonelyhearts marked the first independent production effort for Dore Schary after his departure as the head of production at MGM, and Schary was determined to produce the first serious film translation of West's masterpiece. The result was stark and faithful, if not as impossibly bleak as the book itself; still, one of Montgomery Clift's great unsung performances and an excellent example of the breadth of the noir style.
Reference: Selby