Princely Sums for Presidents, the Remaindered Rubáiyát, and Seuss' Success
The Real Great Escapers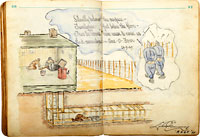 William MacDonald's POW Diary, Lyon & Turnbull of Edinburgh on January 13, £4,025 ($6,520)
Private MacDonald's illustrated log or diary was compiled whilst he was a guest of the Third Reich in Stalag Luft III, the German camp for prisoners of war that, despite being specially sited and constructed to deter tunnelling efforts, was the scene of two of the more famous escape attempts of WWII—escapes immortalised in print and in film as The Wooden Horse and The Great Escape.
MacDonald's log, which must have been compiled using items garnered during his imprisonment and following his release, contains verses, names, and addresses of his fellow prisoners, and several photographs. The most appealing entries are the pencil and watercolor drawings contributed by other prisoners, mostly British, Commonwealth, and European airmen serving with the RAF. Despite what the filmmakers would have us believe, no Americans took part in the Great Escape of March 1944, but one of these pictorial entries is the work of a Lt. D.A. Woods of the USAAF.
The illustrations include comic and other scenes of camp life, but the star turn has to be double-page sketch of 'Harry'—the only one of the three tunnels, Tom, Dick, and Harry, to be completed.
The verse that accompanies this drawing by Lindsay Greenaway of the Royal Australian Air Force reads, "Silently below the surface / twenty five feet below the floor / thus the Goons have cause to curse us / and remember One-o-Four." The numerical reference is to hut 104, as it was under a stove in that hut that the tunnel entrance was concealed, so presumably this was a later addition to MacDonald's diary.
Another drawing, showing MacDonald at work as a cobbler, was contributed by Flight Lt. Alexander Cassie, who worked on the huge numbers of forged documents needed for the escapees. In the film of The Great Escape, Cassie was memorably portrayed by Donald Pleasence, desperately trying to conceal his failing eyesight in an attempt to retain his place among those selected to attempt the escape.
Click here for more information on this fascinating story.
The World of Pooh Lives On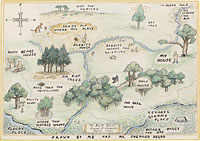 E.H. Shepard's Winnie-the-Pooh map drawing, Sotheby's London on December 17, $79,295 (£49,250) and signed and inscribed copies of Winnie-the-Pooh and When We Were Very Young, Christie's New York on December 4, $32,500 and $21,250.
In the 1950s, 'Flip' Ross, London Bureau Chief of Life, having written a piece called 'The World of Pooh Lives,' commissioned from E.H. Shepard a copy of the map that forms the endpapers of Winnie-the-Pooh.
In related letters to Ross, Shepard agrees a fee of twelve guineas and notes that as "I have the pencil sketch of this size I can work from that." He also mentions new editions of the Milne books with colored illustrations and explains that he has colored Ross' copy, "as I think young people like it like that." (The original, preparatory pencil sketch to which Shepard refers in his letters had been itself sold by Sotheby's, exactly one year earlier, at $104,800, then £67,250.)
One of just twenty Japanese vellum copies of Winnie-the -Pooh issued by Methuen in 1926 and one of 100 large paper copies of the 1924 limited edition issue of When We Were Very Young were both signed by A.A. Milne and Shepard, but the latter was additionally inscribed by Milne to his literary agent, "This book belongs to Leonard Amster who says I wrote it—so I suppose I did. A.A. Milne."
It was also signed by Christopher Robin Milne, using his pet name, Billy Moon, underneath the frontispiece illustration of himself and also contained a letter to Amster, seemingly written in response to a sixth birthday present: "Dear Leonard, I Do like my pen that you gave me. I would love to come to Nue-York to see you. Love from Billy Moon."
On the back of his son's note, Milne informs Amster, "This is Moon's longest letter, so you ought to be proud."
Legendary Rarities in the Children's Book Market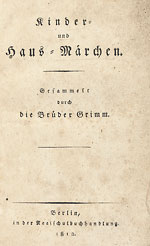 Grimm's Fairy Tales, Christie's South Kensington on December 10, £27,500 ($44,275); L.M. Montgomery, Anne of Green Gables, Sotheby's New York on December 11, $37,500; and Kenneth Grahame, Wind in the Willows, Sotheby's on December 17, £30,000 ($48,300).
Not originally intended as a children's book, but containing many now very familiar fairy tales, among them Hansel & Gretel, Little Red Riding Hood, and Sleeping Beauty, the first volume of what we in the English-speaking world refer to simply as Grimm's Fairy Tales was published in Berlin in 1812 as Kinder- und Hausmärchen [Nursery and Household Tales]. The brothers Grimm, Jakob and Wilhelm, were academics and professors of linguistics who spent years gathering folk and fairy tales and issued two other volumes in 1815 and 1822. But copies of the first are virtually unknown nowadays and though the example in a nineteenth-century binding offered by Christie's showed some staining, spotting, and the odd tear, it easily outstripped its estimate of $10,000-15,000.
Eight copies of the 1908 first impression of L.M. Montgomery's Anne of Green Gables have come to auction over the last 35 years. Set in Canada, yet published in Boston, auctioneers reckon that it is now one of the most sought-after children's books in America. Anne only developed a really serious following among collectors in the wake of a 1985 made-for-TV movie. Illustrated by M.A. & W.A.J. Claus, this copy in the publisher's pale green cloth with pictorial label to the upper cover set a new auction record.
Also published in that same vintage year was Kenneth Grahame's classic, Wind in the Willows, and only six copies in the first issue jacket—priced at six shillings on the front cover—appear in auction records in recent decades. The jacket of a first issue seen at Sotheby's was a little frayed and torn at the extremities and the spine somewhat darkened, but it sold at a mid-estimate sum. In 1998, however, Sotheby's London had sold a copy for $72,600.