Princely Sums for Presidents, the Remaindered Rubáiyát, and Seuss' Success
My House is Your House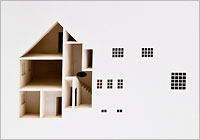 Olafur Eliasson's Your House, Bonhams New York on December 15, $10,370.
Is it a book or is it computer-generated art? Well, knowing that it was published in New York for the Library Council of the Museum of Modern Art may or may not help, but this 2006 creation certainly runs to 454 leaves and is bound in blue cloth.
All bar two of those leaves are laser-cut, via computer, to form a sculpture in negative space of the Danish-Icelandic artist's own house in Copenhagen. Each leaf corresponds to 2.2 centimeters of that house and, as the prospectus would have you believe, turning the pages offers "an extraordinary, disorienting illusion of an inhabitable, portable home."
This is one of 225 copies of an oblong folio work, now out of print, that was issued in a blind-stamped board box containing not only that buyer's prospectus, but a pair of white gloves for clean, fingerprint-free viewing!
A Poet Preps for his Wife's Monster Bestseller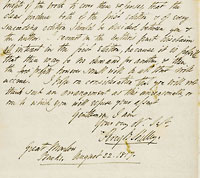 A letter to Lackington's about Frankenstein, Sotheby's London on December 17, £21,875 ($35,220)
Written in August, 1817, this was a remarkable letter in which Percy Bysshe Shelley discusses publication of the book that, despite the doubts and caution his letter reveals, was to be a monster hit for his other half.
Percy and Mary had worked closely together on Frankenstein and it was natural, given the initial desire to preserve Mary's anonymity, that he should deal with the publishers. Ollier Brothers, their first choice, had turned it down, but Lackington & Co. was keen, and Percy, while admitting that "the novel ... is not my own production, but that of a friend." He further explains that the author is currently abroad [Mary was in fact in England, but heavily pregnant] and thus unable to correct the manuscript as requested, but he feels himself authorised to amend "any mere inaccuracies of language" when the time came to revise the proofs.
After proposing contractual terms and divisions of profits between author and publisher, Percy writes, "I cannot on the author's part disdain all interest in the first edition, because it is possible that there may be no demand for a second." How wrong he was to be proved!
The Shelleys' profit on that first edition was modest, but nowadays the first is a very valuable book. A copy offered in the William Self library at Christie's New York on December 4 was bound as one volume in brown morocco gilt by Zaehnsdorf, and despite lacking half-titles and advertisements, managed $50,000, but others have made more.
In 2005, the Cosmatos copy, smartly bound in later calf by Rivière, but this time retaining half-titles and advertisements, made a record £66,000 (then $119,460) at Sotheby's. Back in 1991, one uncut copy in original boards sold at $93,500, but such 'as issued' copies are now of the utmost rarity.
Streetcar Signed, and Then Some…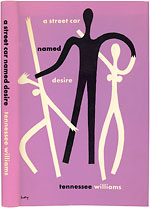 Tennessee Williams, A Streetcar Named Desire, Swann Galleries New York on October 1, $9,000, and Christie's New York on December 4, $17,500
The dust jacket reproduced here is a very finely preserved example of Alvin Lustig's design seen on the copy of the 1947 first edition that Swann Galleries sold. That copy benefited from the author's signature on the front free endpaper. While the copy offered by Christie's could not boast such a nice jacket, it was inscribed, "With best wishes, Tennessee." It was also signed by almost every member of the original Broadway cast.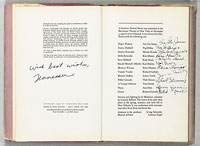 Marlon Brando and Kim Hunter (Stanley and Stella Kowalski) are there, along with Jessica Tandy (Blanche Dubois) and Karl Malden (Mitch), and only two players in the Barrymore Theatre production directed by Elia Kazan have not signed against their names.
Auction records indicate that a number of copies seem to have signed by the cast at the time, and in 2002, again at Christie's New York, a copy that lacked the jacket but was signed by the entire cast and inscribed by Williams to Rudy Bond, who played Steve Hubbell, was bid to $42,000 as part of the magnificent Roger Rechler library of 'Masterpieces of Modern Literature.' That copy was, however, the only known example inscribed by the author to a member of the Broadway cast.
I Will Not Eat Them Anywhere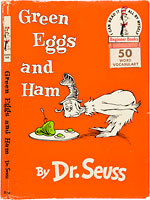 Dr. Seuss, Green Eggs and Ham, PBA Galleries San Francisco on January 7, $5,400
All the issue points identify this as a copy from the Beginner Books/Random House first printing of 1960. According to the Younger & Hirsch First Editions of Dr. Seuss Books: A Guide to Identification (2002), the dust jacket as seen on this example, with the '50 Word Vocabulary' label pasted on—instead of being printed directly on the jacket—marks it out as one of the earlier examples issued.
The Cat in the Hat had used only 223 words and publisher Bennett Cerf bet Dr. Seuss (Theodore Geisel) $50 that he could not write a book using just 50 different words. He did it, and all but one of the words in his cumulative and repetitive work are monosyllabic. The headline to this piece and the lines quoted below contain the exception.
I will not eat them with a mouse.
I will not eat them in a house.
I will not eat them here or there.
I will not eat them anywhere.
I do not eat green eggs and ham.
I do not like them, Sam-I-am.
This record-breaking specimen was part of an 85-lot selection of Seuss books, original artworks, etc. offered by the Californian auction house.