America at Auction
"Two breaches there are in the Apalatean Mountains"
The Discoveries of John Lederer, in three several marches from Virginia, To the West of Carolina, And other parts of the Continent, by John Lederer, $158,000 at Bonhams New York on December 2.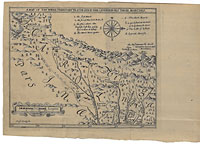 A German surveyor, Lederer had been commissioned by Governor Berkeley to find a passage through the western mountains, and in the course of his travels became the first European to explore west of the Blue Ridge and to see the Shenandoah Valley. On his third march he was abandoned by his companions, who then proceeded to malign his character, but Lederer had continued with his one remaining Indian guide, and later, thanks to the patronage of Sir William Talbot, this account was translated from Lederer's scholarly Latin into English and published in London in 1672.
Complete with the folding engraved map and the rarely seen license leaf, this copy in its elaborately gilt red morocco binding by Rivière was one with a distinguished provenance. Once part of the great Thomas W. Streeter collection of Americana, it later passed into the fabulous library on American frontier life formed by Frank T. Siebert.
Here it was part of 'The American Experience' collection of Bruce McKinney, who having sold his 'De Orbo Novo' collection on New World exploration 1492-1625 at Bloomsbury New York in December 2009, chose Bonhams to sell this 1630-1890 part of the collection.
There were no reserves, so everything sold, and being all in favor of a completely open approach, McKinney once again provided details of where he bought each lot and for how much – whether it be at auction or by private purchase. At the 1999 Siebert sale at Sotheby's New York, he had paid $134,500 for the Lederer book.
The Big Birds Fly Again
The Birds of America by John James Audubon, £7,321,250 ($11,542,682) at Sotheby's London on December 7.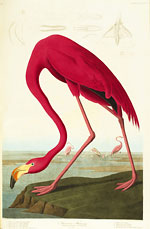 A candidate for the greatest illustrated book ever produced, and still the most expensive printed book ever sold at auction, this great four-volume elephant folio reproduces Audubon's original life-size watercolor drawings in 435 etched and hand-colored plates with line engraving and aquatint.
It was initially issued in parts in the years 1827-38, the printing initially being undertaken by W. H. Lizars of Edinburgh, but very quickly transferred to Robert Havell & Son in London, when a strike by colorists meant that the Scottish printing house was unable to complete the work.
Evidence points to something in the region of 175-200 sets of the original, double elephant folio version having been completed, and the last census of surviving copies—published in an updated, 2006 edition of Waldemar Fries' book, The Double Elephant Folio—identifies 119 such sets around the word, with only a dozen still in private hands.
In excellent condition, the colors still vibrant, this set in the rubbed and rebacked but original bindings of diced russia gilt was that to which Henry Witham of Lartington in Co. Durham, an early paleobotanist, had subscribed his name. There is even a direct connection with Audubon, who records dining with Witham and other potential subscribers in his letters.
It seems that on the occasion he met and dined with Witham, a great deal of wine was taken and Audubon ends his reminiscence by saying "I retired…by left Mr B[ridges] and Mr W[itham] at their whiskey toddy."
The Witham set, housed in a Victorian mahogany folio cabinet, remained in Witham's family until 1951, when it was sent to auction at Christie's and was there purchased by London dealer William Robinson for the 2nd Lord Hesketh, at what then have been around $30,000, or less. Almost sixty years on, it sold to London fine art dealer and advisor, Michael Tollemache, thus beating the $8-million record set in 2000 at Christie's New York for the George Lane Fox-Bute copy.