America at Auction
Wealth, Wealthier, and Wealthiest
An Inquiry into the Nature and Causes of the Wealth of Nations by Adam Smith, £157,250 ($250,390) at Christie's London on November 23.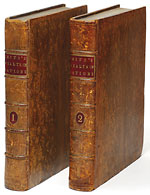 Very collectible and generally expensive, this classic of modern economic thought is usual described as very rare, but over the last ten years, no fewer than thirty-five first edition copies of 1776 have come to auction – three of them in the weeks leading up to Christmas 2010.
Two fine examples in contemporary bindings were seen at Christie's New York on December 3, both two-volume sets being cautiously valued at $40,000-60,000. They were sold at $122,500 and $92,500, and I imagine that the consignors, saleroom, and the US trade buyers were all reasonably happy, but the sums paid for these two New York copies fell some way short of the bid made by a European dealer for the fresh, unsophisticated copy seen here.
In a contemporary tree-calf binding with red morocco gilt lettering and numbering pieces, this copy has seen the spines and corners repaired and refurbished, but is internally untouched. The estimate had been little more than that placed on the US copies, but the treble estimate result breaks a record set at £102,000 (then $202,980) in the same saleroom in 2007—on that occasion for a copy in an Edwards of Halifax binding of tree calf with painted vellum spines.
Editor's Note: Two other copies of this very same "rare" book were covered in our September auction report.
A Basis for International Law
De jure belli ac pacis by Grotius, Euros 126,000 ($172,835) at Ketterer Kunst of Hamburg on November 22.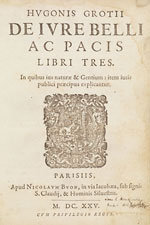 A Leiden educated advocate, Hugo de Groot, or Grotius as he is always known, was the first attempt to lay down a principle of rights, and a basis for society and government outside church or scripture.
"Grotius' immutable law, which God can no more alter than a mathematical axiom, was the first expression of the … natural law which exercised the great political theorists of the eighteenth century, and is the foundation of modern international law," wrote the editors of Printing and the Mind of Man.
In 1621, Grotius had escaped to Paris to avoid a sentence of life imprisonment imposed by Prince Maurice, the Calvinist Stadtholder and his political opponent, and it was there that his great work was first printed in 1625. All early copies are rare and none more so than the initial printing that was rushed through in the hope of getting 'On the Law of War and Peace' to that year's prestigious Frankfurt Book Fair.
According to Jacob ter Meulen's bibliographical study, printing was incomplete by the end of March and with the big fair taking place at Easter, the version taken to Frankfurt lacked indices and contents lists, and the pages were uncorrected. These shortcomings were dealt with in subsequent issues, but until this copy turned up, the only recorded example of that rushed first issue was that in the Bodleian Library in Oxford—a copy which once belonged to the famous English jurist and scholar, John Selden.