Gently Mad
Exceptional Ephemera
A good deal of the appeal for him, Grossman continued, was the "freshness and the unusual quality" of the work, which was produced by talented commercial artists whose names have been mostly forgotten over time. "It is so obvious how liberated they were by these new techniques they were using. For the first time, as graphic artists, they could do full-color drawings, and they could be done relatively inexpensively, and every child or young woman who had the time to do it could start collecting these things and stick them in scrapbooks—that's how beautiful they are."
Once started, Grossman and his wife, Carolyn, acquired material at a pace that would average out to about twenty pieces a day, seven days a week, over a thirty-five-year period, according to McKinstry, who actually did the math after the collection arrived at the Winterthur Library aboard an eighteen-wheel tractor-trailer. The collection was pretty much ready for exhibition and scholarly inquiry as soon as it arrived, thanks to the care the couple had taken over the years to document their holdings.
Grossman told me he bought frequently at ephemera and paper sales, worked closely with many dealers, and in several instances bought directly from individuals. He regards as perhaps his most important acquisition the archive of the George Schlegel Lithographic Company, a New York City business that specialized in cigar box label production in the late nineteenth and early twentieth centuries, and includes original art, key-line drawings, proofs, lithographic stones, cigar bands, and correspondence over four generations. "You have no idea how close that archive came to winding up in a landfill," he said. He has written a book about the archive, Labeling America: Popular Culture on Cigar Box Labels, forthcoming from Fox Chapel Publishing.
Individual high spots in the collection are numerous and include the first commercially produced Christmas card, commissioned in 1843 by the English artist, designer, and author Sir Henry Cole. There are also numerous scrapbooks, too, which in many instances include the only known examples of various images. One album alone contains several thousand chromolithographs picturing English life in the late nineteenth century, assembled in 1887 to celebrate the fiftieth year of Queen Victoria's reign; it weighs forty-one pounds.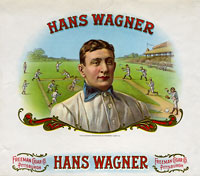 One happy consequence of the collection was that Grossman and his wife, also a professional artist, were able to use many of the images, all of which are in the public domain, for products they designed for the Gifted Line, a giftware and licensing company they founded in 1985 and operated for thirteen years. Grossman has also written two other books on the collection, A Victorian Scrapbook (1989) and Christmas Curiosities: Odd, Dark, and Forgotten Christmas (2008).