Special Report
Lovecraft's Providence
Lovecraft's First Book?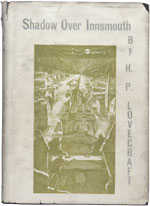 The question of H. P. Lovecraft's first published book depends both on one's definition of "published" and "book." In addition to the two-hundred-copy edition of The Shadow Over Innsmouth, there are some other contenders. Print runs were small, and publication—that is, the action of making work available to the public—non-existent, but these items are of great interest to collectors.
In 1920, a pamphlet containing Lovecraft's essay "Looking Backward" appeared in a run of forty copies. The essay was also published in an amateur press journal called The Tryout. "The Materialist Today," a twelve hundred-word essay by Lovecraft, was published in the little magazine Driftwind and also prepared as a pamphlet in a run of fifteen copies for private circulation in 1926.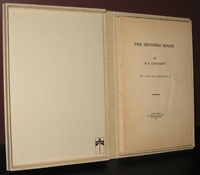 More interesting for lovers of weird fiction is "The Cats of Ulthar." This tale, which reflects Lovecraft's interest in the work of Lord Dunsany, was published in 1920 in The Tryout and then printed as a chapbook in 1935 by Lovecraft associate R. H. Barlow, who used the name The Dragon-Fly Press. Forty-two copies were printed and given to Lovecraft as a Christmas gift; Lovecraft then distributed copies to his other friends.
W. Paul Cook founded The Recluse Press in order to preserve the work of some of the best amateur press writers, including Lovecraft. He went as far as to print three hundred copies of Lovecraft's "The Shunned House" in 1928, but a fire and economic difficulties meant that most copies were not bound. In 1929, Cook bound five, and Barlow bound three in snakeskin and one in morocco for Lovecraft. Barlow also sold a number of the unbound sheets, and the purchasers of these sheets occasionally bound them on their own. After Barlow's death, August Derleth, co-founder of Arkham House Publishers, gained possession of the sheets that had survived the fire. He sold about fifty sets in an unbound state, and then bound the last hundred sets in 1961 for sale under the Arkham House imprint.
There are a significant number of counterfeit editions of "The Shunned House"—forgers made lithographic reproductions of the sheets and bound them in morocco for sale. Some unbound sheets were signed by Lovecraft, and many include inscriptions. However, real surviving sheets have also been known to feature fraudulent Lovecraft signatures.