Collectors and Their Collections
"Make 'em Laugh, Make 'em Cry, Make 'em Wait"
Pickwick Papers, Charles Dickens, $31,250; Vanity Fair, W. M. Thackeray, $27,500; Ralph the Heir, Anthony Trollope, $88,900; Middlemarch, George Eliot, $56,250, all at Bonhams New York on October 18.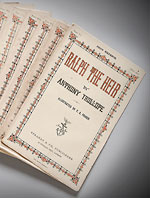 That was how writer Wilkie Collins summed up the formula for successful serial publication, a fashion which had its golden age in the mid-nineteenth century with monthly, parts issues of works by Dickens, Thackeray, Trollope, George Eliot, and many more besides.
Though these paper-covered serials often sold in very large numbers, they were ephemeral, and sets that do survive have not always worn well. The collection seen in this New York sale, formed and constantly upgraded over a period of thirty-five years by Cleveland lawyer and bibliophile, Robert H. Jackson, was perhaps the finest still in private hands and distinguished by fine condition.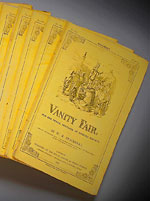 The sale was not an unqualified success, with little more than 50% of the 250 lots—which also included some book form editions and some rare manuscript material—found new homes. Here, however, we are looking at some of the success stories.
The true serial boom began with the 1836 Chapman & Hall issue of Pickwick Papers. Sales in the hundreds only were seen for the early installments, but by the end of the run, those monthly sales had reached forty thousand. Jackson's early issue set sold at $31,250.
The paper wrappers remained the same for all the parts to further aid rushed buyers. Thus Dickens came in duck-egg blue, while Thackeray was bright yellow, as seen here in the first issue set of Vanity Fair that made $27,500.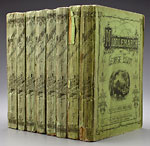 Trollope, unlike Dickens and others, did not like working under pressure from his printers, or leaving his readers hanging, and always completed his novels before allowing them to be issued serially. The rarest of the part-issue Trollopes is one that probably lost money for his publishers and that the writer himself thought his worst, Ralph the Heir of 1870-71. No auction records appear in sixty years, and the Jackson set sold at a record $88,900.
Most of the George Eliot lots in the Jackson sale were book form issues, but Middlemarch was first experimentally published in eight irregularly issued parts by William Blackwood in 1871-72. The Jackson set sold at $56,250.
Maximum Effort, Miniature Outcome
Octave Uzanne, The Fan in a Cosway binding, $74,500 at Sotheby's New York on October 18.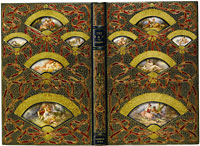 Dreamed up by J. H. Stonehouse of the London booksellers, Sotherans, richly decorated Cosway bindings, which combine intricately gilt tooling and colored inlays with inset miniature paintings on ivory, take their name from the English miniaturist, Richard Cosway.
Stonehouse designed some nine hundred of these rich bindings in the early decades of the last century. Most of them were realized by the famous binding firm Riviere, and all of the miniatures were produced by Miss C. B. Currie. After her death in 1940, other binderies copied the technique, usually referred to as Cosway style. But the Lily and Edmond Safra collection of bindings offered by Sotheby's focused entirely on the Currie creations and was the largest and finest such collection seen at auction since 1923, when Sotheby's New York predecessor, Anderson Galleries, sold the Phoebe Boyle collection.
Cosway bindings have long been more popular in the United States than elsewhere, but this recent sale might suggest that they may now have lost some of that traditional appeal, or perhaps this display of one hundred and twenty lots was just too rich a Cosway diet. Only thirty-nine of those lots found buyers, which is a pretty disastrous outcome in saleroom terms, but seen here is one of those that prospered.