Your search returned 9 result(s)
ABN&FB: Belogradchik Society for Local History and Folk Studies
2 Polkovnik Kantili Street | Belogradchik, BG 3900, Bulgaria
P.O. Box 1590 | Telluride, CO 81435
The American Academy of Bookbinding offers the highest level instruction in fine leather binding, book restoration and repair, and many book related subjects. Classes are available for students from novice to accomplished. Courses are offered in Telluride, Colorado and private study is available in Summerfield, North Carolina. Diploma programs offered for fine binding and for integrated studies. Instructors include Don Glaister, Monique Lallier, Don Etherington, Peter Geraty, Renate Mesmer, Gabrielle Fox, Luigi Castiglioni, and other professionals in the field.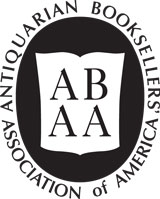 20 W. 44th St., Suite 507 | New York, NY 10036
The ABAA was founded in 1949 to promote interest in rare and antiquarian books and book collecting, and to foster collegial relations. We maintain the highest standards in the trade with our Code of Ethics. Our members sell, buy, and appraise books and printed matter, and our staff can assist you with finding a bookseller and with other trade-related matters.
DeGolyer Library, Southern Methodist University | Dallas, TX 75275
Founded in 1929 and reestablished in 1988, the Book Club of Texas publishes limited editions of books of literary and historical merit and sponsors occasional lectures and meetings of interest to its membership.
1004 School Streat | Shelbyville, IN 46176
We embrace collectors and enthusiasts of all juvenile literature, including boys' and girls' series books, pulps, story papers, and dime novels.
Houle Rare Books & Autographs


2699 North Palm Canyon Dr. | Palm Springs, CA 92263

remove | remove, OO 00000
Meet Connecticut, Massachusetts & Rhode Island book & ephemera dealers.
20705 Wood Avenue | Torrance, CA 90503
The Movable Book Society
PO Box 477689 | Chicago, IL 60647