Use any combination of keyword, category, or state to search for resources.
Companies by Letter
900 Middlefield Drive | Petaluma, CA 91423
Wood Engraver, publisher of Mixolydian Editions
Riley Dunn & Wilson Ltd. Book Restorers
Almond Court | Falkirk, Scotland FK2 9HT, United Kingdom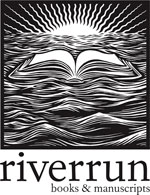 12 Washington Ave | Hastings-on-Hudson, NY 10706
Handling fine, rare and unusual books & manuscripts of all periods. Specializing in early printed and illustrated books, literature, fine press, science, and Americana. Qualified appraisals performed.
Riverwash Books
Box 1712 | Prescott, ON K0E 1T0, Canada
Robert Wright Books
P.O. Box 45 | Tamworth, ON K0K 3G0, Canada
Rock Village Publishing
41 Walnut Street | Middleborough, MA 02346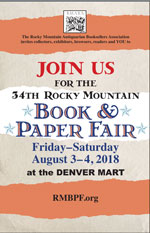 PO Box 9252 | Denver, CO 80209
The 35rd Annual Rocky Mountain Book & Paper Fair will be held on Friday & Saturday August 2 & 3, 2018 at the Denver Mart. Exhibitors from across the nation will bring their best antiquarian books, maps, posters, and ephemera to Denver.
1023 Terrace Lane | Glenview, IL 60025-2754