Your search returned 5 result(s)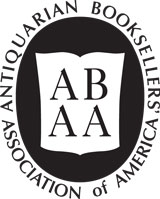 20 W. 44th St., Suite 507 | New York, NY 10036
The ABAA was founded in 1949 to promote interest in rare and antiquarian books and book collecting, and to foster collegial relations. We maintain the highest standards in the trade with our Code of Ethics. Our members sell, buy, and appraise books and printed matter, and our staff can assist you with finding a bookseller and with other trade-related matters.
1004 School Street | Shelbyville, IN 46176
"From Alger to Swift": We embrace academics, researchers, collectors, enthusiasts and dealers of all juvenile literature, including boys' and girls' series books, pulps, story papers, and dime novels.
Houle Rare Books & Autographs


2699 North Palm Canyon Dr. | Palm Springs, CA 92263
2901 6th Avenue | Fort Worth, TX 76110
Sponsors the Dallas Fort Worth and Houston Book Fairs See our ad in Fine Books or website for more information: https://www.texasbooksellers.org/
20705 Wood Avenue | Torrance, CA 90503