Your search returned 8 result(s)
Albuquerque Antiquarian Book Fair
2405 Kestrel Ct. NW | Albuquerque, NM 87107
Friday & Saturday, March 13-14, 2020
Friends of Jefferson Public Library
P. O. Box 9391 | Metairie, LA 70055


5 rue Drouot | Paris, 75009, France
Founded in Paris in 1890, the LIBRAIRIE CHAMONAL specializes in rare and antique books on Travel, Medicine, Science, Gastronomy, and the Napoleonic Empire, as well as drawings, engravings, documents and fine bindings from the 15th to the 19th century.
Pasadena Convention Center | Pasadena, CA 91101
February 1-2, 2019 - The inaugural Rare Books LA brings together the worlds of antiquarian books, fine prints, photography, maps, ephemera, and more.
PO Box 9252 | Denver, CO 80209
The 35rd Annual Rocky Mountain Book & Paper Fair will be held on Friday & Saturday August 2 & 3, 2018 at the Denver Mart. Exhibitors from across the nation will bring their best antiquarian books, maps, posters, and ephemera to Denver.
Oakland Marriott City Center | Oakland, CA 94607
Friday, February 8th through Sunday, February 10th, 2019. One of the world's largest and most prestigious exhibitions of rare and valuable books features the collections and rare treasures of nearly 200 members of the Antiquarian Booksellers' Association of America (ABAA) and the International League of Antiquarian Booksellers' (ILAB). The featured exhibit is courtesy of the Book Club of California. In addition there will be a special exhibit celebrating the works of L. Frank Baum (1856-1919).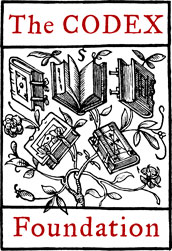 2203 4th Street | Berkeley, CA 94710
The CODEX Foundation exists to promote the contemporary hand-made book as a work of art in the broadest possible context and to bring to public recognition the artists, the craftsmanship, and the rich history of the civilization of the book. The Foundation publishes and holds biannual Book Fairs and Symposiam.