A Once-in-a-Lifetime Sale
Bonhams sale highlights rare items from Beethoven biographer. By Peggy Carouthers Peggy Carouthers lives in North Carolina and is the editor of custom content at Journalistic Inc.
Bonhams Fine Books and Manuscripts sale on March 9 in New York will cover a variety of materials with thiry-three lots spanning from a book by Augustinus published in 1468 through materials from the twentieth century.
"Every lot in this sale is spectacular," said Ian Ehling, director of the Bonhams Fine Books and Manuscripts department. "The sale comprises exceptional items, like an early Ptolemy atlas, important Newton manuscripts, a prism that was used by Benjamin Franklin for his scientific experiments, Gardner's photographs of the Civil War, and a violin given to Albert Einstein shortly after he moved to the United States, in 1933. I leave it at that, you see, it is a sale of absolutely unique and important pieces."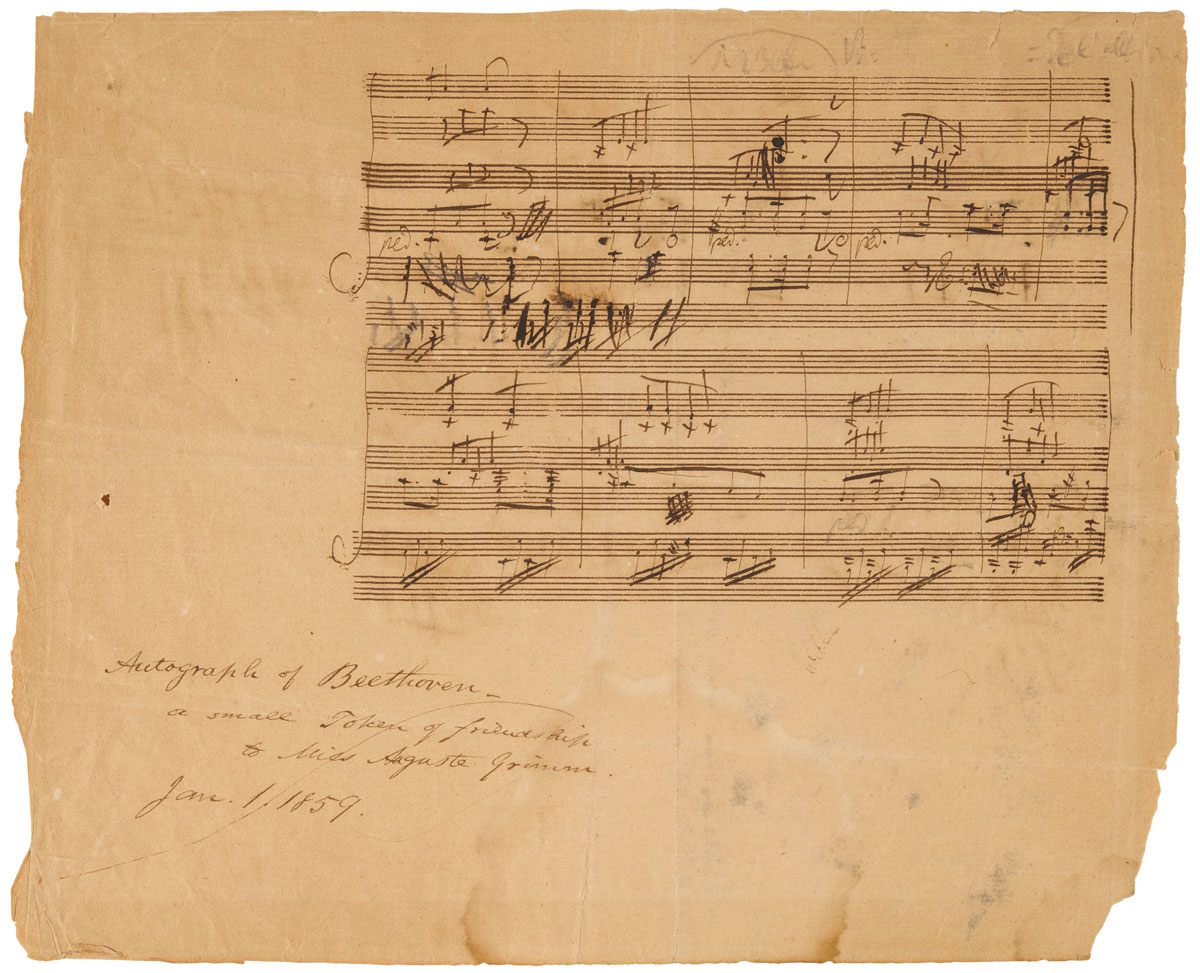 Two important lots are consigned by a descendent of Alexander Wheelock Thayer, a nineteeth-century American journalist whose five-volume biography of Ludwig van Beethoven is still considered a go-to resource for historians today. "Thayer was enamored by Beethoven and did a tremendous amount of research with people who actually knew the composer," Ehling said. One of the lots for sale is an autograph manuscript sketch leaf that contains part of the score of the Scottish Songs "Sunset" Op. 108 no. 2., once owned by Thayer and estimated at $80,000-120,000.
This was part of a series of Scottish, Irish, and Welsh folk songs composed by Beethoven and commissioned by George Thomson, a friend of Robert Burns. Thayer actually gave the leaf to Auguste Grimm, the daughter of Wilhelm Grimm of the Grimm Brothers. The leaf contains numerous corrections in Beethoven's own hand.
"To find a Beethoven manuscript on the market is already very difficult, so buyers interested in music will be delighted to be able to have a go on this one, especially with this provenance," Ehling said. "This leaf shows a very simple piece of music, and you witness Beethoven's genius at work. Composing a piece like this was not an easy process for him, and he revised and edited the piece several times."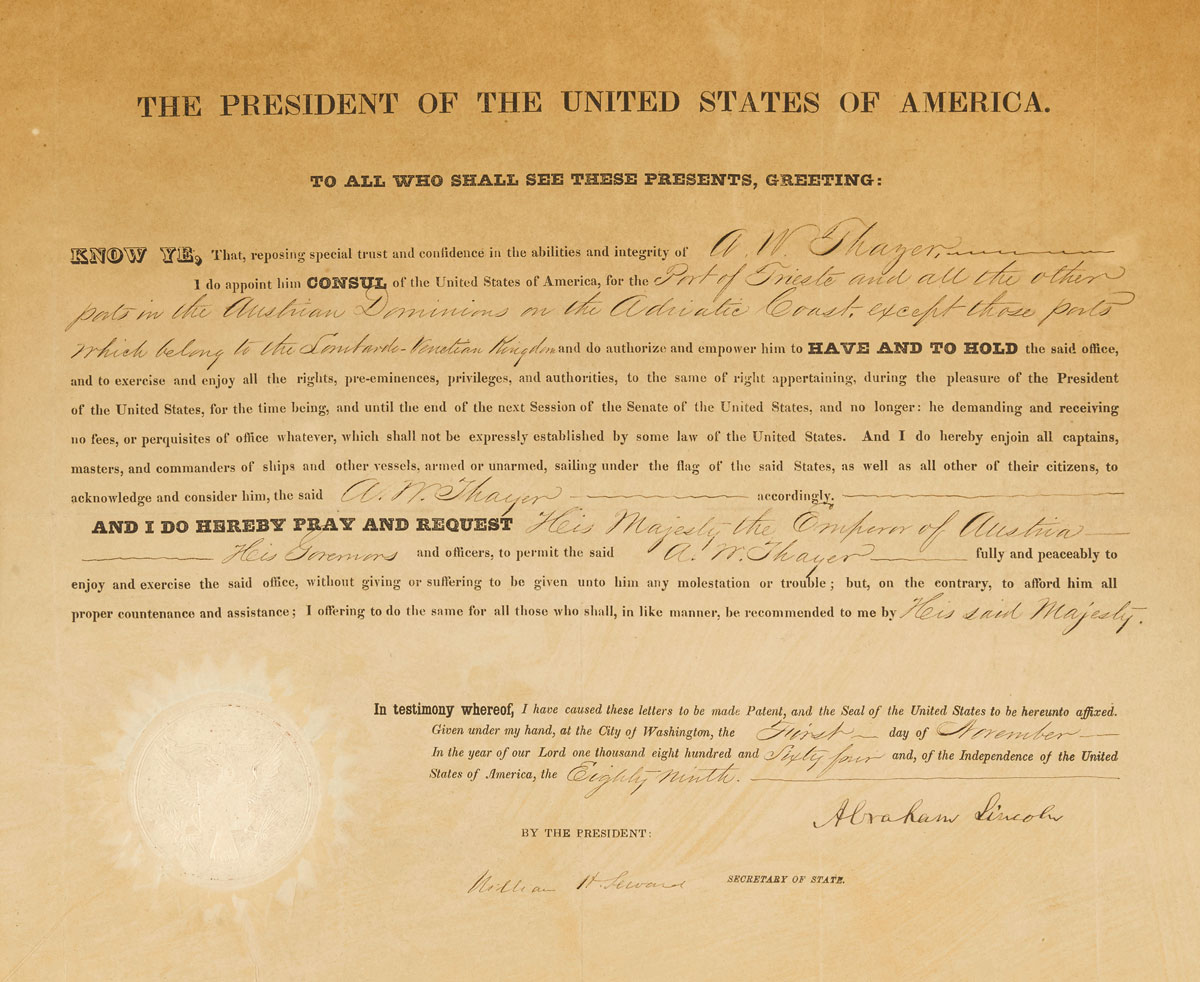 Thayer was appointed to be a consul of the United States to the Austro-Hungarian Empire in Trieste by Abraham Lincoln. Also included in this sale is Lincoln's appointment of Thayer to this post, with the president's signature. It is estimated at $4,000-6,000.
"The Lincoln appointment is interesting to anyone who collects Americana and anyone who is interested in music and Thayer and wants to connect to him through that document," Ehling said. "A collector of presidential signatures could also have an interesting piece, as well as collectors of American history."
Both the Beethoven manuscript and Lincoln's appointment of Thayer are rare pieces up for auction for the first time. "These documents are both consigned by a descendant of the Thayer family and have never been offered before," Ehling says. "This is a once-in-a-lifetime opportunity to acquire something that was in the family possession for such a long time."
The Bonhams Book department in New York has nine sales scheduled this year and also expects a strong season in London. During the March preview, the department will also exhibit highlights from a private Dutch collection of natural history books to be offered at Bonhams in London on May 30, 2018.