French Literature by Way of the Commonwealth
An upcoming sale by Freeman's features books from the highly curated library of a Virginia diplomat. By Erin McPherson Erin McPherson is a writer and editor based in Raleigh, North Carolina. She is an amateur collector of hardbound Dickens.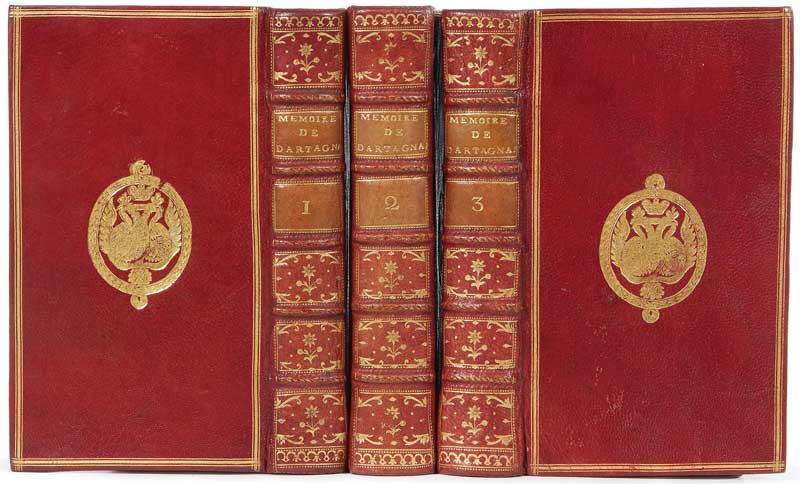 An upcoming sale at Freeman's features books from the highly curated library of a Virginia diplomat.
Despite it's grand exterior and gardens, Virginia House—a Tudor manor dismantled in England in 1925 and rebuilt in Richmond, Virginia, by diplomat Alexander Weddell and his wife—occupies an unassuming position, nestled deep in a residential neighborhood called Windsor Farms. It fits well with the other homes, and barely betrays the cache of decorative arts and works on paper which has been housed within its walls for nearly a century.
The Weddells were avid collectors who outfitted their home with suits of armor, elegant works of art, and a library of 5,000 books—many of which will be available for sale April 10 in Philadelphia.
"There's a poignancy to the Weddell's vision in collecting, and also in the way their collection cuts off," said Darren Winston, head of books, maps, and manuscripts department at Freeman's. "The couple tragically died in a train wreck in 1948, so the books that they purchased that year are brand new—they're seventy-year-old volumes, but they haven't been touched."
Of particular interest are three books of French literature, including the three-volume Memoires de Monsieur d'Artagnan (estimated at $1500-2500)—the 1700 book by Gatien de Courtilz de Sandras, which served as the primary source material for Alexandre Dumas' nineteenth century classic The Three Musketeers.
"The story goes that Dumas found the book, read it, and was totally inspired," Winston said. "And what makes these volumes even more interesting is the really beautiful and clean armorial bindings, which we know to be original and not rebound."
On the front and back covers of each volume of Memoires are Russian arms of alliance: the crests of Holstein-Gottorp and Württemberg flanking the state arms of Russia. According to Winston, this was a common representation of the joint arms of Emperor Paul I and Empress Maria Feodorovna when they were tsesarevich and tsesarevna—at the time, heirs presumptive to the Russian Empire.
"These books are in amazing condition," Winston said. "It appears they have only had two or three owners since the eighteenth century."
Another work of interest for collectors is a beautiful first edition of Gustav Flaubert's Madame Bovary (1857), in a morocco binding. With an estimated value of $2,500-4,000, this volume is signed by the French binder and sports original wrappers bound in.
"This book is one of the highest-regarded works of French literature," Winston said. "This copy is so beautiful, I think it will attract a lot of interest from collectors who would want to add it to their leather library."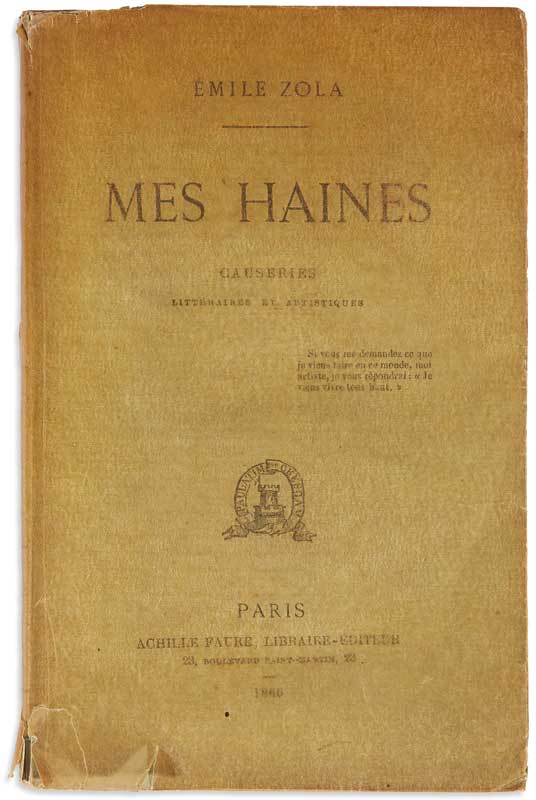 A lesser-known work by French author Émile Zola will also be available for sale. An 1866 presentation copy of the author's third book Mes Haines (est. $500-800) boasts an inscription from Zola "to monsieur É. de Girardin [a French journalist and politician], courtesy of the author."
Among the approximately 500 lots that will be available at the sale—including books, furnishings, and decorative arts from Virginia House—there will be several Jonathan Swift titles, a group of Emily Dickinson firsts, and works of Mexican and South American literature.
"We are specifically selling works that we find compelling," Winston said. "You can buy one item from this sale, and you'll have a piece of the Weddells' story. There's a romance in the history of certain objects—it's a tradition of things. Much like with an oral tradition, we have a responsibility to pass on the stewardship of these items."