The Polysyllabic Spree
By Nick Hornby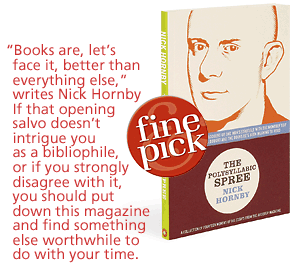 San Francisco:
Believer Books, 2004
143 pages. $14.00
ISBN 1932416242
Books are, let's face it, better than everything else," writes Nick Hornby. If that opening salvo doesn't intrigue you as a bibliophile, or if you strongly disagree with it, you should put down this magazine and find something else worthwhile to do with your time (canasta, perhaps), because everything that follows in Hornby's book, and in this review, is a passionate and opinionated dispatch about reading books. To wit: "If we played cultural Fantasy Boxing League, and made books go fifteen rounds in the ring against the best that any other art form had to offer, then books would win pretty much every time.
Go on, try it. 'The Magic Flute' v. Middlemarch? Middlemarch in six. 'The Last Supper' v. Crime and Punishment? Fyodor on points.…Every now and then you'd get a shock, because that happens in sport, so Back to the Future III might land a lucky punch on Rabbit, Run; but I'm still backing literature twenty-nine times out of thirty."
Hornby is the author of several novels—High Fidelity, About a Boy, etc.—that have been surprising critical and commercial successes; because they're good literature and they're entertaining. The Polysyllabic Spree is a collection of Hornby's monthly columns for The Believer magazine. Opaquely titled "Stuff I've Been Reading," every column begins with two lists: "Books Bought" and "Books Read." Sometimes there's overlap between them, but more often, there are curious differences and gaping holes. Hornby spends much of the column describing what he read and how he read it. He also makes excuses for what he didn't read: didn't have time; something else came up; he read another book not on the list; the book was unreadable or boring, and he just couldn't finish it.
The lists reflect the divergent interests and wandering attention span of the average booklover. In one month, he read Gustave Flaubert's letters; John Buchan's 1916 espionage tale, Greenmantle; Michael Lewis's Wall Street memoir, Liar's Poker; and a self-help book, How to Stop Smoking. In another month, he completely focused on a single whopper of a book, Charles Dickens's David Copperfield. "Where would David Copper-field be if Dickens had gone to writing classes?" he asks. "Probably about seventy minor characters short is where." His observations on Dickens are acute ("In The Old Curiosity Shop I discovered that in the character of Dick Swiveller, Dickens provided P. G. Wodehouse with pretty much the whole of his oeuvre."), as are his insights on literature, publishing, music, and politics. He's particularly poignant while discussing George and Sam, by Charlotte Moore, a book about Moore's autistic son. Hornby relates to the book and the author because one of his sons is also autistic and, he says, there are few books like Moore's that really capture the experience of living with an autistic child.
Personal life and cultural life are tightly wrapped in Hornby's writing. He admits his peculiarities, ignorance, and prejudices up front. He dismisses one book (the title and author shall remain mercifully nameless here) based on single snippet of dialogue: "I am positive that no one has ever said 'Arsenal won Liverpool 3-0' in the entire history of either Arsenal Football Club or the English Language. 'Beat,' 'thrashed,' 'did' or 'done,' 'trounced,' 'thumped,' 'shat all over,' 'walloped,' etc., yes; 'won,' emphatically, no." Hornby's first book, Fever Pitch, was about soccer, so he knows what he's talking about here.
These aren't remotely conventional book reviews. Hornby's columns are like a literary reality show in print: Man tries to read all the books he buys and write a monthly column on deadline, while striving to maintain a career, a family, and a semblance of a social life. He doesn't crack before our eyes, but he does get physical while reading Wilkie Collins's No Name. "We fought, Wilkie Collins and I. We fought bitterly and with all our might, to a standstill, over a period of about three weeks, on trains and airplanes and by hotel swimming pools. Sometimes—usually late at night, in bed—he could put me out with a single paragraph."
The process of reading a book is actually work, Hornby reminds us, subject to short attention spans, forgetfulness, personal crises, family business, and other interruptions from life. Besieged on all sides by books— some outstanding, most mediocre —the professional reviewer must read them all the way through out of obligation. The Polysyllabic Spree is dear to me, as Fine Books & Collections's book review editor, because I see my own dilemma in these pages. I don't need pity, and neither does Hornby.
But Hornby does sometimes ask for forgiveness, something I've never seen a book reviewer do. "Last month," he writes, "I may have inadvertently given you the impression that No Name by Wilkie Collins was a lost Victorian classic (the misunderstanding may have arisen because of my loose use of the phrase, 'lost Victorian classic') and that everyone should rush out and buy it. I had read over two hundred pages when I gave you my considered verdict; in fact, the last four hundred and eighteen pages nearly killed me, and I wish I were speaking figuratively.… I'm sorry for the bum steer, and readers of this column insane enough to have run down to their nearest bookstore as a result of my advice should write to The Believer, enclosing a receipt, and we will refund your $14. It has to say No Name on the receipt, though, because we weren't born yesterday, and we're not stumping up for your Patricia Cornwell novels."
If his reviewing gig doesn't work out, Hornby can always rely on his other job as a novelist, but I hope he perseveres. I don't want him to crack before I do.
The Design Legacy of George Salter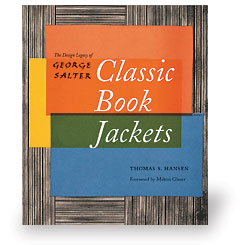 By Thomas S. Hansen. Foreword by Milton Glaser.
New York: Princeton Architectural Press, 2005
200 pages. $35 paper
ISBN: 156898491x
If you collect fiction published in the United States during the middle years of the twentieth century—by Thomas Mann, William Faulkner, Graham Greene, Ayn Rand, William Styron, Franz Kafka, John Hersey, Hermann Hesse, John Dos Passos, or quite literally hundreds of other lesser-known authors—you will be familiar with the jacket art of George Salter. Salter (1897–1967) was born in Germany and practiced design in Berlin until emigrating in 1934 to the States, where he began designing books and jackets for American publishers.
Trained in calligraphy and design, Salter was one of a handful of designers, like W. A. Dwiggins, Jan Tschichold, and a few others, who changed the look of American books from the 1920s to the 1960s. Salter's dramatic combinations of hand-drawn lettering and his own imaginative renderings, based on his intuitive understanding of the central idea or image of a book, made for some of the most distinctive book covers of the period.
Thomas Hansen, a professor of German at Wellesley College, has put together the first complete survey of Salter's life and work, and it's both delightful to look through and a concise, thorough, and semischolarly account of all of Salter's work. Hansen divides the short text portion (48 pages) into sections: Salter's "Berlin years," his activities in the 1930s and 1940s ("From Berlin to New York"), and a final section on his "Designs of the 1950s and 1960s." The bulk of the book is given over to full-color reproductions of more than two hundred examples of Salter's best work. At the back of the book are appendixes listing all of Salter's designs for German publishers (1922–34) and American book publishers (1934–67), as well as notes and an extensive bibliography.
Hansen's heroic dedication to filling in the gaps in Salter's own records can be seen in the appendixes, where he lists the nearly 1,000 commissions Salter completed for book jackets, bindings, magazines, and record covers for an astounding array of clients (about thirty-five in Germany and nearly a hundred in the U.S.), making this something between a catalog raisonné and a comprehensive bibliography.