Flying Leaves and One-Sheets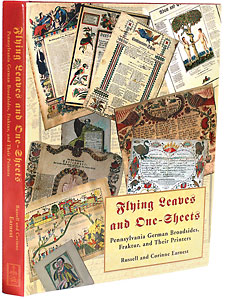 Pennsylvania German Broadsides, Fraktur, and Their Printers
By Russell and Corinne Earnest, with Edward L. Rosenberry.
New Castle, DE:
Oak Knoll Press, 2005

352 pages. $95.00

ISBN 1584561459
The brightly reproduced llustrations are the most obvious attraction of this book but another strong feature is the structured documentation and background information on the page opposite each photograph


Within the large field of American book history, there is a substantial and scarcely known tradition of ethnic German books stretching from colonial times up through a rich nineteenth century, and even into the present. The Ausbund, a hymnal compiled by sixteenth- century European Anabaptists, would be printed frequently in southeastern Pennsylvania in the eighteenth and nineteenth centuries and remained in print as recently as 2000. It is still in active use across the American continent by Amish congregations that preserve a German dialect. German Bibles were printed in America well before English versions, and even Benjamin Franklin tried to launch a German newspaper in Philadelphia.
Yet so specialized is this subject within American culture that it has repeatedly required the investment of foreign academics to enumerate the extensive output of German American presses. Not until 1989 was there a truly comprehensive bibliographic guide to the early printing of Pennsylvania Germans, The First Century of German Language Printing in the United States of America. And it was published under the auspices of the University of Göttingen, Germany, with the cooperation of the Pennsylvania German Society.
Altogether untouched by this magnificent two-volume achievement, however, was a less-tractable genre: German American broadsides and other single-sheet publications. These ephemeral publications filled an immediate need to publicize, to announce, to sell, to celebrate, or to make a private record or memorial. In all likelihood, most of them have not come down to us and are either unknown altogether or remembered only in some stray reference. These one-sheet documents have also attracted attention in Germany, and a third volume of that painstaking bibliography, just for early German broadsides printed in America, is in preparation.
At the same time all this German-based industry has been under way, two Americans, Russell and Corinne Earnest, have been immersed in the subject. This consuming interest resulted in a finely illustrated study that offers insights into a substantial, locally based publishing enterprise that reached from New York to Virginia and westward through Pennsylvania, Ohio, and adjacent states. Flying Leaves and One-Sheets is the culmination of decades of study and consultation with public and academic librarians, book dealers, collectors, antiquarians, and specialized scholars. It offers for the first time a general understanding of the kinds of publications the field encompasses and suggests the ways these works functioned in the German-speaking societies. It contributes some initial speculations as to how the printers and other professionals—including scribes and illuminators—carried on their trades. It also provides a stepping-off point for further scholarly speculation and interpretation, as the objects to be considered are cataloged and enumerated.
This book is of special interest to collectors. The brightly reproduced illustrations are its most obvious attraction, but another strong feature is the structured documentation and background information on the page opposite each photograph. The Earnests render a special service by displaying numerous pieces from private collections that would otherwise remain unseen. The volume provides a framework for understanding of a diverse and heretofore scarcely delineated realm of printing and cultural history.
The objects shown range from ready-to-color emblems of Christian piety to sensationalistic stories of murder and execution. The most widely known broadsides, birth and baptism certificates, are perhaps the most illustrative of the arts of scribes (who filled in blank forms with names, dates, and places) and colorists (who painted in the figures and designs often printed in outline on certificates). The authors also provide essential definitions, explaining for example that Fraktur is both a German typeface and the name applied to calligraphic certificates decorated in the Pennsylvania German tradition.
The Earnests' book brings into clear focus one of the most abstruse categories of broadside, the "spiritual maze," through three examples from Pennsylvania and Indiana. These mysterious documents demonstrate an advanced exercise in the typesetter's art, presenting a labyrinthine text that must be turned repeatedly to be read. Biblical verses and moral lessons illustrating the path of a Christian life are the reward for the reader of this genre.
An entirely different focus is brought by the propaganda broadside, represented by a warning of atrocities committed by Hessian soldiers in Bucks County, Pennsylvania, during the Revolution. Also treated are German broadside editions of the Declaration of Independence. No less striking, however, are the mysterious printed charms and house blessings that aimed at instilling harmony or protecting the family against danger. There are even examples of very rare early woodcut and type specimen sheets.
The notes and bibliographical citations demonstrate the Earnests' considerable familiarity with literature in local and printing history. The usefulness of the book is much increased by a thorough index of names and genres, and English translations of titles and imprints make the descriptions entirely accessible.
The excitement that should be generated by this book may be heightened by the announcement of another new book on the Pennsylvania German broadside, from the Library Company of Philadelphia. The understanding and appreciation of these fragile, native art forms can only increase.