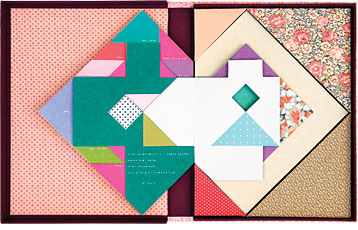 Aunt Sallie's Lament (1988) by Margaret Kaufman and Claire Van Vliet was the first quilt-inspired book from Janus Press. Limited to 150 copies. Chronicle Books published a trade edition in 1993, and Van Vliet altered and augmented its pages to create a new limited edition in 2004.
For the next two months-through April 29-at New York City's Grolier Club (
www.grolierclub.org
), there will be an exhibit that, no matter how well attended, should be even more so, for it is a major cultural landmark. The exhibit "Claire Van Vliet and the Janus Press: Celebrating Fifty Years" will be the first comprehensive exhibit in New York of Van Vliet's (pronounced "van vleet") work and will give the public a chance to see the extended vision and accomplishment of this artist over half a century. The exhibit has been jointly curated by Ruth Fine (who has collaborated with Van Vliet on several occasions and writes extensively about her work) and Neal Turtell, both of the National Gallery of Art in Washington, D.C. The exhibit is divided into six sections, each expressing a particular passion of Van Vliet's in her durable career, including her devotion to the works of Franz Kafka, her experiments with colored pulp paper, and her many collaborations with poets, writers, and other publishers of fine-press books. While Van Vliet has produced a substantial body of work in various media, including etchings, woodcuts, watercolors, drawings, and prints (she is a member of the National Academy of Art for her prints, not for her books), the exhibit will focus mainly on books.
Claire Van Vliet, who is Canadian-born, began her career with a rejection-but not her own. T. S. Eliot, in his capacity as an editor at Faber & Faber in England, turned down a long poem written by one of Van Vliet's teachers at San Diego State College. "So," Van Vliet remembers, "I said, 'Let's publish it ourselves.' " And so she did, teaching herself how to make a book as she went along. "Then after I finished, I thought, 'I kind of like this.' " That was 1955 and the beginning of the Janus Press. The work was An Oxford Odyssey, which is still fresh and engaging today.
After obtaining her M.F.A., Van Vliet served printing apprenticeships in Germany and in the U.S. She taught for some years at what is now the University of the Arts in Philadelphia. She moved to Vermont in 1966. Since then, she has produced over one hundred books. I felt compelled to ask Van Vliet how she managed to keep Janus Press hale and hearty all these fifty years. "Keep your overhead low," she replied dryly. In 1989, after thirty-five years of work, her fortunes were enhanced considerably with a so-called "genius grant" from the MacArthur Foundation.
Though Claire Van Vliet is legendary, she is not lapidary. I recently spoke with her as the time grew near for her to journey from her home and studio in rural Vermont to the wilds of Manhattan for the Grolier Club exhibit. It was clear that she is a vital, passionate, articulate artist, still very engaged. What struck me as I went through the considerable body of Van Vliet's work in the rare-book collection of the New York Public Library and perused the catalogs of her work is the sense of absolute authority in her work. You feel, in opening a book made by Claire Van Vliet, an unqualified assurance in her vision. So I asked Van Vliet to comment on that quality in her work.
next >