Digest
Pairing Books With Art
Since 2009, the Museum of Fine Arts in Houston, Texas, has selected books according to either its collection or temporary exhibits and prepared a discussion guide for existing book clubs in the community. "We select books three times a year," said Jay Heuman, the museum's public program coordinator. The book group then downloads the discussion guide and schedules a tour of the appropriate exhibit or collection. "We've had book groups that are two hours away come to tour an exhibit," said Heuman. Book tours typically last an hour and discuss four to six works of art. Books paired with last summer's exhibit of Japanese art included The Hare with Amber Eyes by Edmund de Waal and An Artist of the Floating World by Kazuo Ishiguro.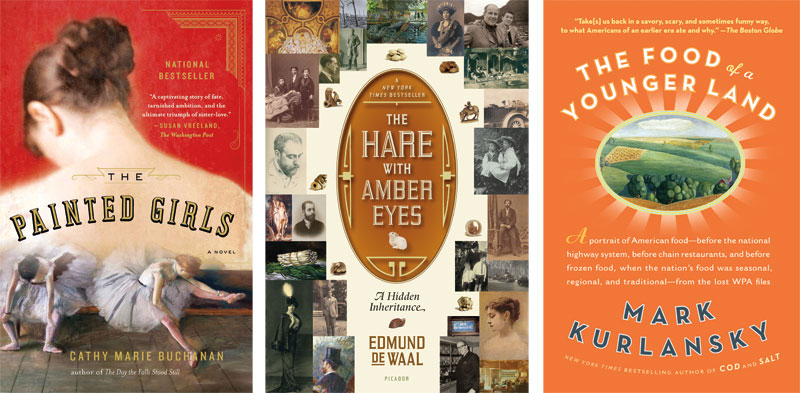 Like its Houston counterpart, the Toledo Museum of Art in Ohio sees a demand for its book club. The institution has hosted its own club since May of 2011, and selected books typically relate to an exhibition or are chosen to highlight one of the museum's collections, said Alison Huftalen, director of the museum's research library.
"Recently, we read The Printmaker's Daughter by Katherine Govier to coincide with our exhibit of prints by Japanese artist Katsushika Hokusai," she said.
The book group is capped at twenty-five members, which gives everyone a chance to speak up at club meetings. The discussion leader rotates among staff, board members, and occasionally a member who may have a special relation or tie to a book. The discussion leader prepares the questions, and curator-led tours are available for those who want to tour the exhibit or collection that relates to the book.
Brooklyn's version of a museum book club is a little different. The Brooklyn Museum of Art (BMA) originally formed a book group to discuss art-related books as part of its "Target First Saturday" event, where programs and entertainment are provided free to the public on the first Saturday of the month. But the book group has evolved into a hybrid over the past five years. "The group was only a traditional book club for the first few months of its inception," said Elisabeth Callihan, BMA's manager of adult public programs. Because authors were typically there to discuss the month's selection, "people didn't read the book before they came," Callihan said. Instead, attendees were happy to learn about the book from the authors and to put it on a future "must-read" list.
"Basically, the group has become what bookstores might call an author reading," Callihan continued. A core group of thirty to forty members still meet and call themselves "the book group," but only in that members are interested in the books presented and how they relate to art in the museum. One of the group's recent selections, for example, was a biography of pop icon Madonna to coincide with an exhibit of fashion by avant-garde designer Jean Paul Gaultier.
However it's done, it's clear that museum outreach to readers has succeeded in boosting art appreciation, and vice versa.