Feature
Inside Downton Abbey's Library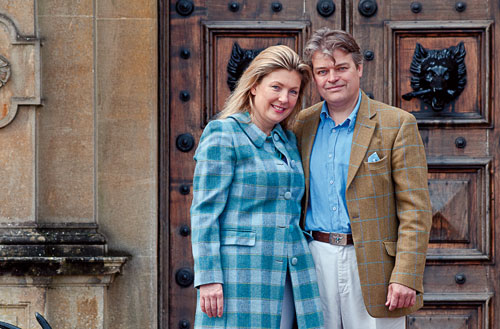 "Highclere Castle was never burnt down," said the countess, Fiona Aitken Carnarvon, author of Lady Almina and the Real Downton Abbey, and the present mistress of Highclere. "It has merely adapted and transformed … Its traditional library [catalogued by the Dewey Decimal System] is one that began with my husband's direct ancestor in 1679."
A quick peruse of the shelves reveals an interest in travel narratives, including Travels in Asia Minor and Greece (1825) by Richard Chandler, The Parks, Promenades and Gardens of Paris (1869) by William Robinson, and volumes I and II of Memorials of the Discovery and Early Settlement of the Bermudas… (1877) by J. H. Lefroy. Volumes displayed to the left of the fireplace in the library's second room reflect one forebear's fascination with Egypt and archaeology. The 5th Earl of Carnarvon, who lived at Highclere a hundred years ago, famously discovered the tomb of the Egyptian boy pharaoh Tutankhamun in 1922 with his archaeological colleague, Howard Carter. (Visitors are welcome to see a related exhibition of Egyptian antiquities in the castle cellars on public opening days.)
One of the favored objects in the library is not a book at all but a small desk, believed to have been used by Napoléon Bonaparte. The desk retains a slit in its top for mail to be slipped through for franking (castles posted their own mail). "I visited here as a child and always remember this desk in the library," said tour guide Lizzy Howard.
The two rooms comprising the library are useful spaces for the current countess and earl. "A library is for reading, research, and conversation … rooms with cozy corners and different conversations," Lady Carnarvon said. "I might wish to show a bishop the books about various predecessors in the North Library whilst my husband is holding forth in the other end!"
Sometimes, they even add to the collection. Married since 1999, the countess said, "My husband's first present to me was a book of poetry, and my first Christmas present to him was an anthology of poetry. He recently gave me a first edition of Wilfred Owen's letters."
One book visitors won't find (aside from the Gutenberg Bible) is the library's oldest volume, dating to 1538, Italian poet and playwright Lodovico Ariosto's Comedia…Cassaria. This and other highly valued items, including the scroll given to the first Earl of Carnarvon by King George III, are securely housed elsewhere, according to a guide. A framed black and white photograph on a library table shows the present earl standing directly behind Queen Elizabeth II, his godmother.
Highclere Castle's three floors comprise eleven functioning bedrooms and more than twenty bathrooms. "Even Lady Carnarvon is not sure of the exact number of rooms in the castle," according to Candice Bauval, assistant to the countess, because many, many rooms have been turned into offices or storage spaces or are in the process of being restored. "When the public visit, they get to see all of the rooms that are used by the family with the exception of the offices and the private bedrooms on the third floor."