Feature
Inside Downton Abbey's Library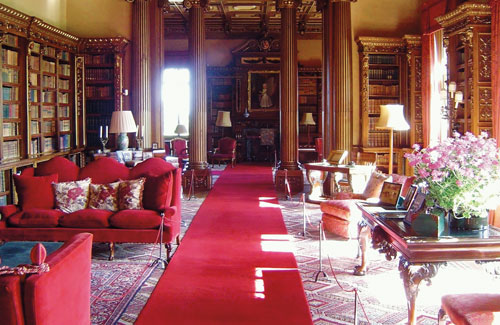 When asked about her favorite scenes from Downton Abbey, Lady Carnarvon replied, "We live here and don't think of those things."
Approximately twelve to fourteen staff members live on the Highclere estate in various properties. "The world of Highclere still exists with its own community of chefs, gardeners and housekeepers, Colin the butler and Jo the groom as well as all the other people who make the 'Real Downton Abbey' a welcoming place for visitors today," Lady Carnarvon wrote on her blog. She and her husband also lend Highclere as a site for charity events, such as a ten-kilometer run last fall in aid of multiple sclerosis. "Far removed from the decorous characters elegantly reclining on the sofas of Downton Abbey, weekends at the castle tend to be a whirlwind of activity, rushing around madly in several directions all at once."
Highclere's vast gardens and grounds, while sometimes forming a backdrop for Downton's cast, present a special opportunity for the Carnarvons during 2016, the tercentennial of the birth of Capability Brown, the renowned eighteenth-century designer of landscapes on a grand scale. His passion for the beauty of landscape is evident in the gardens and park at Highclere; the brochure language aptly describes "gently rolling lawns, precisely planted cedars and stands of deciduous trees that lead the eye to grand perspectives." Exclusive Capability Brown tours will take place in May and October, with each day structured around a morning lecture, tours of the house and grounds, and refreshments.
The intense recent interest in English manor houses and gardens, particularly from abroad, is referred to as the "Downton effect." Not only has Highclere become a tourist attraction, but the quaint market town of Bampton, where village scenes in Downton Abbey were filmed, also draws Downton buffs. Town guide Robin Shuckburgh said, "We're being told to expect fifteen years of the 'Downton effect.'" The ancient village nestled in the Oxfordshire Cotswolds (which is, in reality, about thirty miles away from Highclere) looks forward to using its newfound tourism dollars to help repair its church and archive building. St. Mary the Virgin church—renamed St. Michael and All Angels in the television series—has hosted a number of dramatic Downton events including weddings, funerals, christenings, and even a jilting at the altar.
Shuckburgh said he is asked daily where to find the grave of "Cousin Matthew." "I had to tell visitors the production people bring the headstone back each time they're filming here, but now that the series has finished filming, I talked the company into giving it to us so we can use it for tourism purposes. Churchgate House, the Bampton rectory, features prominently in the series as Isobel Crawley's house. The old grammar school building, which now houses the Bampton Community Archive/gift shop, served as Downton's hospital.
US tour companies, such as Sterling Silver Tours, which conveys sightseers from London to Highclere and Bampton, are continuing trips to the area at least through 2016. "We've seen increased interest," said Suzzanne Lacey, owner of Sterling Silver Tours. "A lot of fans are well aware that the themed travel for their favorite show is coming to an end. They want to inhale every last bit of Downton."